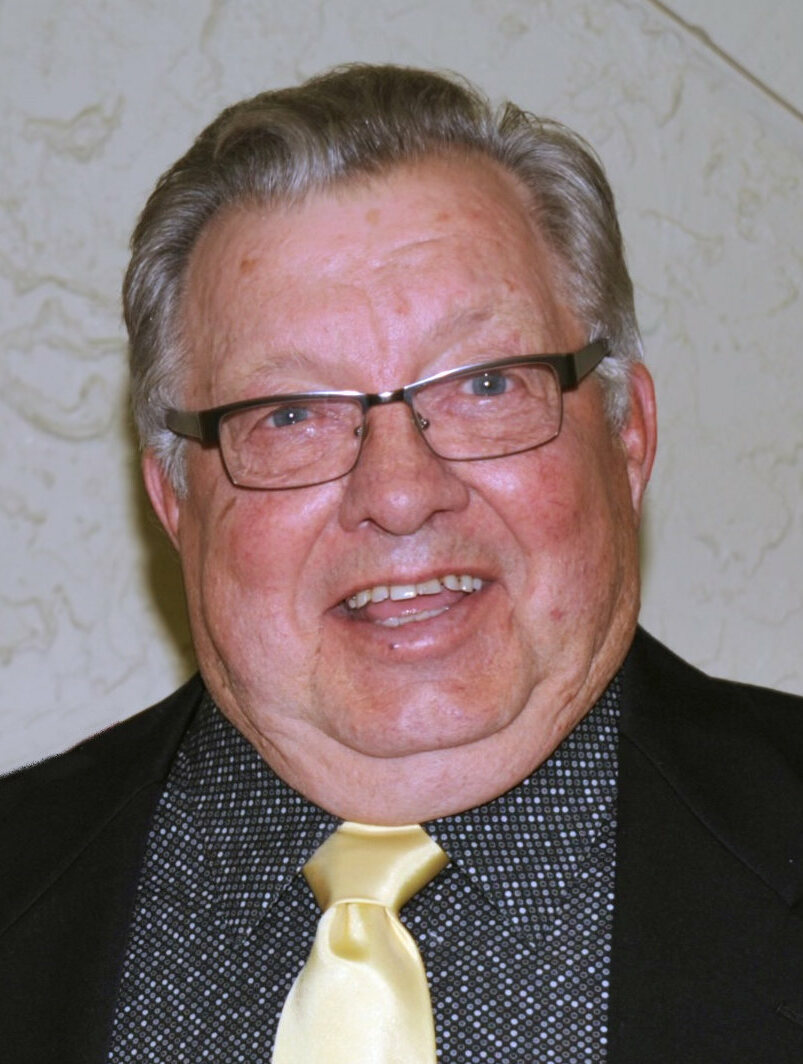 Elmer Arthur Dust
The family of Elmer Arthur Dust of Ituna, beloved husband of Verna Dust sadly announce his passing on Tuesday, March 7, 2023. Elmer was 79 years of age.
The Funeral Mass will be held on Monday, March 13 at 1:00p.m. from St. Bruno Roman Catholic Church, 700 Kirby St. Bruno, SK with Father Pius Schroh presiding.
The Interment will follow in the St. Bruno Roman Catholic Cemetery.
Memorials in memory of Elmer may be made to the St. Bruno Roman Catholic Cemetery as gifts of remembrance.
It is with deep sadness that we announce the passing of Elmer Arthur Dust on March 7, 2023.
Elmer was born in Bruno, SK on November 8, 1943 to Charles and Mary (nee Nett) Dust. He grew up on a farm near Bruno with his five sisters and attended school in Bruno.
Elmer left the farm and started his career in painting. He started out painting grain elevators throughout Saskatchewan and Alberta. Later he became a self-employed painting contractor doing commercial, industrial and residential painting throughout Saskatchewan
Elmer married Verna Swiderski on November 27, 1965 at the Roman Catholic Church in Wynyard, SK. They raised two children, Darla and Crystal. Although his painting career took them to several places early on, Elmer and Verna eventually settled in Ituna, SK in 1979, and remained living there.
Elmer had a passion for the outdoors and loved being out in his yard feeding the birds, picking his raspberries, and tending to his apple trees. He enjoyed hunting and fishing his whole life. Elmer enjoyed travelling with his wife and family to many places over many years. He especially liked spending time with his family, and loved getting together for family visits with his daughters, son-in-laws and grandsons. His family came first.
Elmer had a heart of gold. He will be remembered for his gracious spirit, his wonderful sense of humour, and his unwavering kindness.
Elmer is survived by his wife Verna and his two daughters and their families: Darla (Brent) Zayshley of Yorkton, SK. and Crystal (Darcy) Sakal and their two sons Ethan and Evan Sakal of Cochrane, AB. Elmer was predeceased by his parents Charles and Mary Dust and his sister Diane Bennett.
Elmer, we will miss you and love you forever.
The Funeral Mass was held on Monday, March 13, 2023 from St. Bruno Roman Catholic Church, Bruno, Saskatchewan with Fr. Pius Schroh presiding. The cross bearers were Ethan and Evan Sakal. Words of remembrance were given by Darla Zayshley and Crystal Sakal. The readers were Bernadette Kawcuniak and Darla Zayshley and the gift bearers were Rita Thoms and Eileen Zurcher. Organist Annie Moritz led the St. Bruno Church Choir and the congregation in the hymns. The interment followed in the St. Bruno Parish Cemetery with Sheldon Dust, Terry Kawcuniak, Barry Thoms, Byron Thoms, Darcy Sakal and Brent Zayshley serving as pall bearers. Memorials may be made to St. Bruno Parish Cemetery as gifts of remembrance.