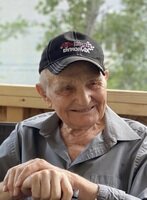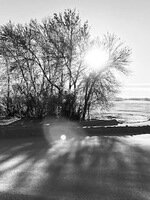 Obituary of Mike Kardynal
To view the live-stream recording of this funeral, please click here: https://www.facebook.com/yourfamilylikeapartofours/videos/2297222477333217
KARDYNAL - Mike was born on November 19, 1924 in Mukhavka (Muchawka), Western Ukraine to Philip and Tekla Kardynal (Dutchak). In 1939, at the age of 15, Mike emigrated to Canada with his father and mother, and two brothers, Harry and Taras. The family came to the Amsterdam area, north of Canora. The family worked for farmers in the Amsterdam and Canora area before moving north to Pelly in 1940. In May of 1941, the family came south to the Saltcoats area, where two other sons, Robert and Paul, were born. The family established their roots there where Philip and Tekla farmed until retirement to Yorkton in 1968. Upon his parents retiring, Mike bought two quarters of their land and has continued to farm the land until his passing.
Mike worked his entire life; farming was in his blood. In 1944, Mike bought his first quarter of land from a land agent. As he was only 20 years old at the time, Mike had to buy the land in trust of his father. When Mike was not farming his land, he would go to work at various jobs across Canada. He worked in Geraldton, Ontario in the mine and then at the hospital. He worked one season on a ship sailing on Lake Superior and Lake Ontario. He also worked at the Bralorne, BC gold mine for 9 years going there every winter to make money to put towards his farming operation, which he did until he got married.
Mike was married to his wife Adeline on September 2, 1956. They were married for 65 years; and in all their years of marriage, they were rarely apart. Together, they built a successful farming operation, which included both grain and cattle farming for many years before focusing strictly on grain farming. Even at the age of 98 years old, you could not keep Mike off the combine; he made sure that his sons got him up on the combine this past fall so that he could help in getting the crop off his land. It seemed that harvest time brought out a renewed energy in him. Mike was fortunate in that he was able to remain on the family farm with the exception of the last three weeks of his life; that is a testament to the importance of the farm to him, and his will to remain there as long as he could.
In addition to farming, Mike served as a councillor for the Rural Municipality of Wallace for 20 years; he believed in giving back to the community he served, and thought this was the best way he could do this. He was a principled person, and brought this to his role as a councillor.
Mike is predeceased by his wife Adeline, who passed away on June 29, 2022. He is also predeceased by his parents (Philip & Tekla), Adeline's parents (Peter & Mary), his siblings (Harry and Taras) his sister-in-law's (Elsie, Lucy, and Judy), and his daughter-in-law (Terri).
Mike leaves to cherish his memory, his son Larry (Angelina) and their children Jagger and Willow; his daughter Patsy (Bryan), and their children Ashley (Kyle) and great-grandchildren Harlow, Wynn and Rooke; Katelyn (Ryan), and Heather (Aaron); his son Danny (Debbie), and his children Danielle (Spencer) and Tanner; and Debbie's daughter Lori and grandson Justin; his son Michael (Carol) and Carol's children Leim, Jaida, Teagan, Tionna, and Lily. Mike is also survived by his siblings, Robert and Paul; and Adeline's siblings, Matt, Alex and Helen.
The Funeral Service was held on Saturday, March 4, 2023 from Yorkton Memorial Gardens Family Centre with Rev. Fr. Leonid Malkov, C.Ss.R. and Crystal Bailey, Certified Celebrant officiating. The candle lighter was Paul Kardynal and the Epistle reader was Laurie Kardynal.Tribute and words of remembrance were given by Pat Kuspira and Katelyn Kuspira. The interment followed in the
Garden of Crucifixion, Yorkton Memorial Gardens with Ashley Materi, Katelyn Kuspira, Heather Kuspira, Danielle Rees, Tanner Kardynal, Jagger Kardynal and Willow Kardynal serving as casket bearers. Memorial donations may be made to St. Anthony's Hospital Foundation, Inc. Box 280 Esterhazy SK S0A 0X0 or a charity of choice as gifts of remembrance.
Вічная Пам'ять - Eternal Memory
"Farming – It's sort of in your blood. You don't think about the long hours or the money. You do it because you love it."
To send flowers to the family or plant a tree in memory of Mike Kardynal, please visit Tribute Store
Service
11:00 am
Saturday, March 4, 2023
Yorkton Memorial Gardens Family Centre
Highway #10 E.
Yorkton, Saskatchewan, Canada
306-783-4772
Interment
Yorkton Memorial Gardens
Highway #10 East
YORKTON, Saskatchewan, Canada


Share Your Memory of
Mike