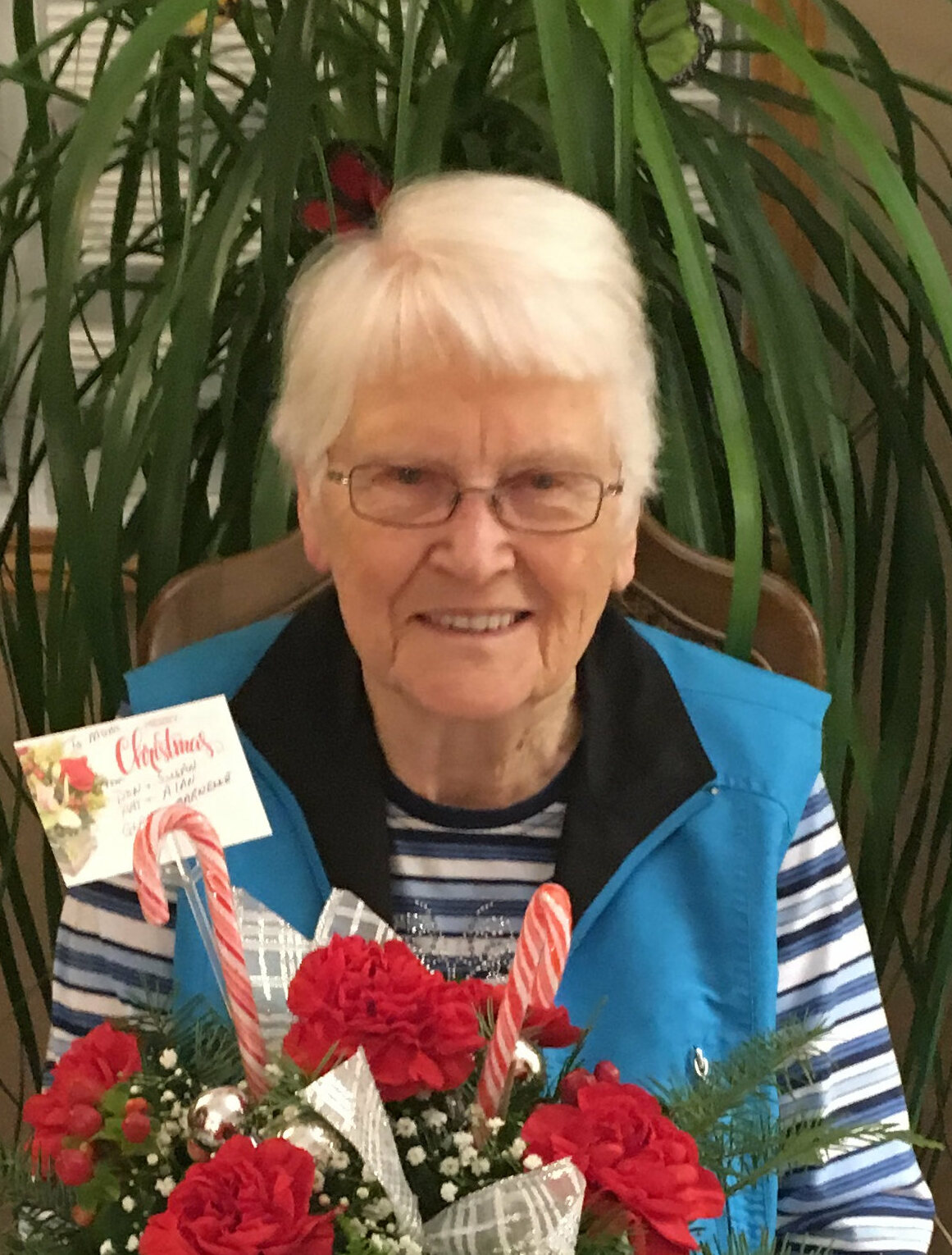 Obituary of Frances Macdonald
Frances Patricia Macdonald (nee Palmer), age 94, passed away peacefully on Monday March 6th.
She was born June 26th, 1928 at the Red Cross Outpost hospital to parents Sid & Donna Palmer who had emigrated from England in 1926. She was raised on a farm with her older brother Sid and two younger sisters Marie & Grace. She attended Blighty School either walking or taking a horse two miles to school.
When her brother enlisted in the army, during the second world war, she along with her sisters became her father's farm help. This is when she learned to milk cows, drive a tractor and do general farm work. These skills became very valuable during her later life.
After finishing school she worked at the same hospital where she was born. In 1945 she met a dashing young soldier who had just returned from overseas. They dated for a couple years and in 1947 she married Bill (William) Geddes. Together they operated a farm and raised three children. Their family grew by son Don (1950), daughter Pat (1953) and son Glen (1966).
Frances was involved in the community participating and volunteering in school events, the Shand Fair, St Andrews Anglican Church and various other community events. She took great delight teaching her grandchildren about farm life, having sleep overs and just spending time with them.
In 1984 Bill passed away and for the next two years she started to travel. She has travelled to many parts of the world including South America, Australia, Europe, Hawaii and many parts of Canada and the States.
In 1986 she married John Macdonald and they shared a love of travel. They resided on John's farm until 1994 when they moved into Porcupine Plain. There they enjoyed small town life curling, golfing, gardening and spending time at their trailer at Greenwater Lake.
In 2000 John passed away. She continued to live in Porcupine spending her time travelling, helping at the church and as treasurer of the Sunset Club.
In 2011 she moved to Yorkton first living in a condo and then in Yorkton Crossing Retirement Home. She very much enjoyed being part of the Yorkton Crossing community. She liked living there and was especially fond of the staff.
Frances was predeceased by her first husband Bill Geddes, her second husband John Macdonald, parents Sid & Donna Palmer, her brother Sid (Freda), her sister Marie (Elwyn), daughter-in-law Lisa and numerous other relatives. She is survived by her sister Grace (Dennis), her son Don (Susan), daughter Pat (Alan), son Glen (Marnelle), grandchildren David, Jennifer (Nick), Angie, Ryan, Brant (Katelynn), Shelby (Jeremy) and Brody, great grandchildren Xyra, Thatcher and Grayson.
To send flowers to the family or plant a tree in memory of Frances Macdonald, please visit Tribute Store
Funeral Service
2:00 pm
Monday, June 26, 2023
Holy Trinity Anglican Church
165 2nd Ave N
Yorkton, Saskatchewan, Canada
Interment
1:00 pm
Tuesday, June 27, 2023
St. Andrew's Cemetery
Cemetery
Porcupine Plain, Saskatchewan, Canada


Share Your Memory of
Frances