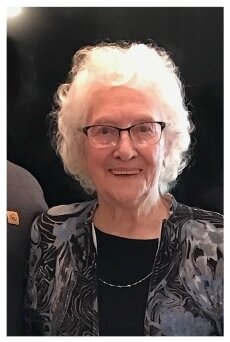 Obituary of Irene Sebastian
The family of Irene Sebastian of Melville sadly announce her passing on Saturday March 11, 2023. Irene was 95 years of age.
A Graveside Service will be held in the Spring of 2023 at St. Henry's Roman Catholic Cemetery.
It is with deep sadness that the family of Irene Sebastian, 95 years of age, shares that she passed away peacefully on March 11, 2023, with her granddaughter by her side.
Irene was born on October 14, 1927, into a large close-knit family of six brothers Fred, Albert, Elmer, Clarence, Art, and Ed and two sisters, Elsie and Mary and her parents, John and Alvina Numrich. Spending time with her family was very important to Irene, whether it was helping her parents and siblings on the farm in the Mankota area, visiting with each other, travelling together, or the dance parties in their homes in Regina.
To Irene, her family was her everything! She was blessed with a daughter, Maureen, who passed away at 2 years of age and a son, Rick, who was the "joy of her life". She was happiest when her family was near, whether it was for a Sunday meal, babysitting her grandchildren, Bryce & Kendra, (and spoiling them with trips to Matty's or the corner store), or sharing her passions with them gardening, birdwatching, or playing bingo. The pride Irene had for her family was evident in the collection of newspaper clippings and memorabilia she kept…and the boasting she would do with her neighbours and friends! Even her pet dogs and birds and Rick and Joanne's furbabies were treated as family; Irene enjoyed spoiling them all.
Irene was a strong and resilient woman. She was proud that she owned her own home and was happiest being there, especially when her family would come to visit. However, her failing eyesight and declining health made it difficult for Irene to remain in her home, eventually moving to St. Paul Lutheran Home. This became Irene's new home, and the staff her new family. Irene's family would like to thank the staff of St. Paul Lutheran Home for their compassionate care over the past four years.
Left to cherish her memories are son, Rick & Joanne, grandchildren, Bryce & Katelyn Sebastian and Kendra & Shane Jarduk, and great-grandchildren, Maisie & Jaxson Jarduk and Kamala Sebastian, one brother, Ed & Carol Numrich, sister-in-laws, Lillian Numrich and Anne Numrich, and many nieces and nephews. All of these Irene loved deeply.
A graveside service will be held later this spring.
"Wherever a beautiful soul has been,
there is a trail of beautiful memories."


Share Your Memory of
Irene