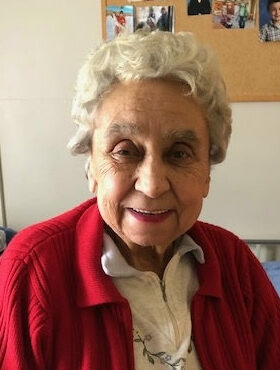 Obituary of Sarah Clara Banow
The family of Sarah Banow of Melville widow of William "Bill" Banow sadly announce her passing on Sunday, March 26, 2023. Sarah was 87 yearas of age.
Prayers will take place on Thursday, March 30 at 7:00p.m. from St. Henry's Roman Catholic Church.
The Funeral Service will be held on Friday, March 31 at 10:00a.m. from St. Henry's Roman Catholic Church with Father Dennis Remot as Celebrant.
Those unable to attend the service may view a live stream of the service by clicking on the link below beginning at 9:45a.m.https://www.facebook.com/yourfamilylikeapartofours/videos
The interment will follow in St. Henry's Parish Cemetery.
Memorials in memory of Sarah Banow may be made to Mass Offerings, Church Memorial Fund or Church Cemetery Fund as gifts of remembrance.
Sarah Banow, was born April 5, 1935 in Esterhazy, Sask. She was the fifth child of Stephen and Mary (Bezzegh) Helmeczi.
Hungarian was the language spoken in the home, learning to pray and sing beautiful hymns. Her dad played the violin and they all joined in with her mom leading the singing. Sarah learned English when she went to school.
Sarah did her share with all the farm chores and walked to school three miles in the winter and the summer. When Sarah turned 17, she phoned St. Anthony's Hospital and asked Sister Mary Anita for a job. She was hired without an interview or resume.
On October 25, 1954, Sara married her sweetheart Bill Banow. Service was held at Our Lady of Assumption Catholic Church at Kaposvar, with Fr. A.A. Kulcsar officiating.
In 1956 their son David was born. In 1957 the family moved to Melville. In 1958 Sarah began working at St. Peter's Hospital as a Nurses' Aid: a job she loved for over 37 years. During her time she took leave from work to have their daughter Kathlene who was born in 1960 and their son Greg in 1963. Over the years, Sarah and Bill opened their home to many foster children who had various health conditions or impairments. She worked until 1995, at which time all the Nurses' aids were laid off, which was not a welcomed retirement. After being unemployed for 10 months, Sarah went to work at the Vet Clinic, until she retired 5 years later.
Sarah had many joys in her life Grandchildren and Great Grandchildren were at the top of the list! She was a faithful member of St. Henry's Parish and Rosary Sodality, holding position of secretary and president several times since 1958.
Her many hobbies included gardening, playing bingo, knitting, quilting, crocheting, playing the organ, as well as spending time with family and friends. Sarah's phone was always busy…. Many hours spent catching up with those she loved.
Due to failing health, in 2018, she became a resident of St. Paul's Home. She was known as the lady with the bears. She spent numerous hours making these bears to be sent to children of poor countries. She took great pride in the roughrider bears she made for all her grandchildren / great grandchildren.
Sarah was predeceased by her loving husband Bill in 2002, her parents, brothers Frank and George, sister Veronica, and two infant brothers.
She leaves to mourn her passing and cherish her memory: sons David (Anita), Greg (Michelle) and daughter Kathlene; five grandsons, Jeffrey (Vanessa), Sheldon (Kimberly), Ryan (Tiffany), Christopher (Shawna), Dylan, and one granddaughter Amber (Brett) Herman; eight great grandchildren Jack, Julie, Charlie, Flora, Hazel, Jenayah, Chrishawn, Avayah; brother Laddie and sister Mary, as well as numerous nieces, nephews and in-laws.
The family would like to thank everyone for attending. She will be missed dearly by all who knew her.
To send flowers to the family or plant a tree in memory of Sarah Banow, please visit Tribute Store
Prayers
7:00 pm
Thursday, March 30, 2023
St. Henry's Roman Catholic Church
729 Main St.
Melville, Saskatchewan, Canada
306-728-5702
Funeral Mass
10:00 am
Friday, March 31, 2023
St. Henry's Roman Catholic Church
729 Main St.
Melville, Saskatchewan, Canada
306-728-5702


Share Your Memory of
Sarah