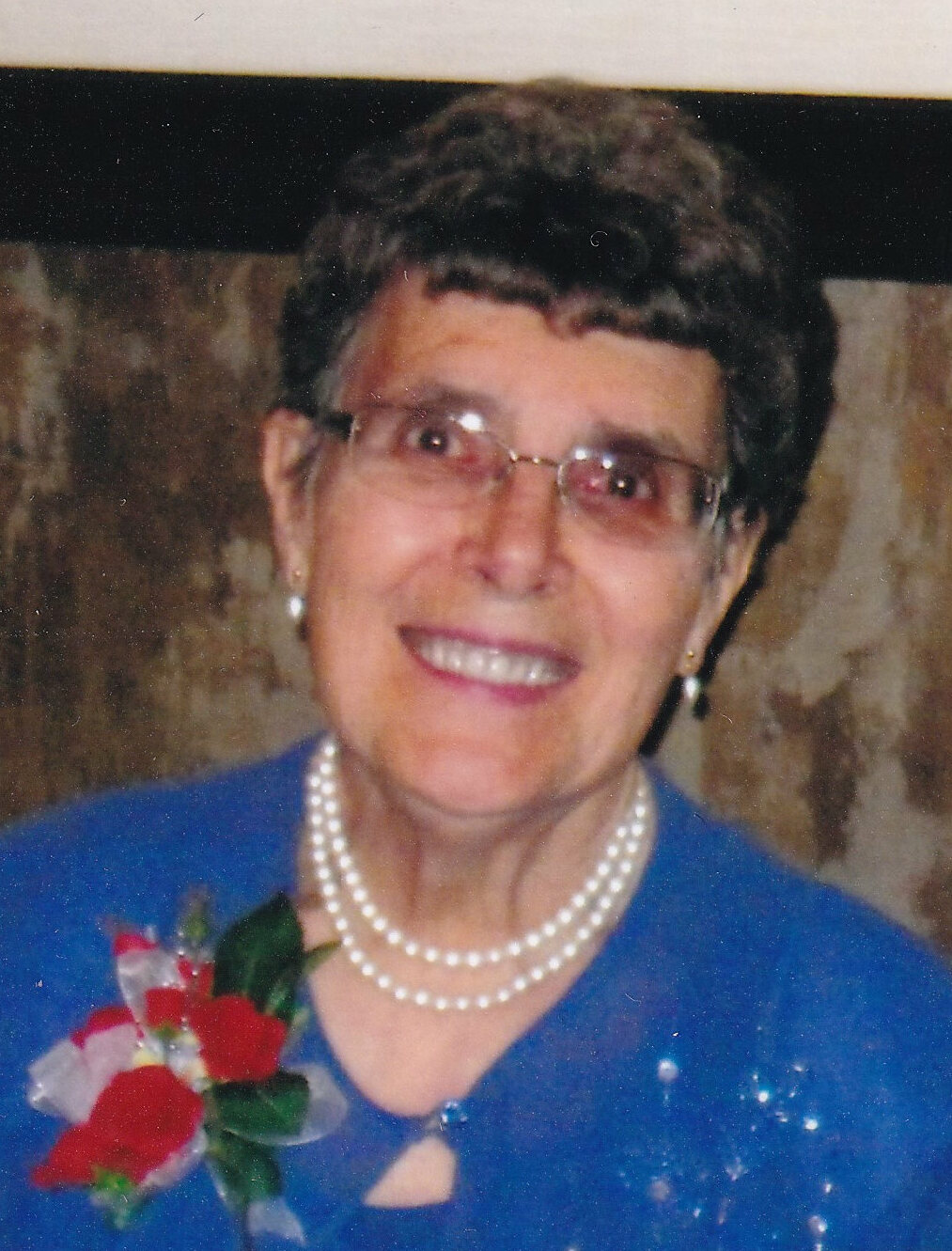 Obituary of Joyce Jospehine Lutz
LUTZ - Joyce Josephine Lutz (nee Holstein) was born June 29, 1935, on the farm at Runnymede, SK to Peter and Emma (nee Wegner) Holstein. She was baptized on January 1, 1936 in Rhein, SK. She was confirmed in the Salem Evangelical United Brethren Church in Yorkton, SK by Rev. J. D. Elbard on May 13, 1951. Joyce lived on the farm at Runnymede with her parents and her older sister, Evelyn, until the age of seven years, where they attended Carclew School. In 1942, the family moved to farm in the Kamsack area for two years, where they attended Irondale School. Then in 1944, they moved to the Yorkton area, where they attended Mapleside School. In 1948, her parents purchased a farm in the Tonkin area, where she attended Shamrock School. She quit school after Grade 8, due to poor eyesight. Joyce stayed at home on the farm to help with the daily chores. As a young girl she enjoyed playing ball, and learned to do many handicrafts, such as embroidery, knitting, crocheting, and punchwork. She also liked to bake, and learned to bake bread at a young age, which she took special pride in all her life. She enjoyed helping her parents at harvest time, and could be seen driving the team of horses and wagon from the threshing machine to the bin and back again, and later on, the 2-ton truck. In 1948, she was especially pleased when her little cousin, Shirley, came to stay with them at the age of seven months for a period of two years, when her mother took ill and wasn't able to care for her for a period of time. On November 11, 1956, she was united in marriage to Dan Lutz of Yorkton. Their marriage was blessed with five sons and one daughter. She was a kind, loving, and devoted wife and mother. She took great pride in raising her family. She dedicated her life to God, and taught her family to live a life that was pleasing to Him. She gave freely of herself, so that she could be with the family as they became involved in various activities as they grew up. Her rewards came in life, as she watched her family grow up and accomplish each milestone in their lives. It made her proud to see them grow up and for them to love and respect God and mankind. She loved to sew and did a lot of sewing for the family as they were growing up. She took several short courses in Yorkton Regional Adult Education: sewing, typing, and bookkeeping, and in the early 1970s she wrote her G.E.D. test and received her Grade 12 standing. In her earlier years of marriage, she helped with the daily chores such as milking cows, raising chickens and pigs, etc. until Dan's allergies necessitated them to sell the livestock. She spent many hours in the garden and trees, as well as cutting the lawn, until the family was old enough to take over some of the jobs. She was always willing to open her heart and home to anyone, and for a time, Dan's two brothers and sister came to stay with them. They also looked after their godchild for a few months while his mother was ill. When Joyce's mother became too weak to live alone, Joyce and Dan took it upon themselves to take her into their home, and took care of her until her passing. She was a devoted member of St. Paul Lutheran Church and taught Secondary School and Vacation Bible School for a number of years. She also served several years on the Altar Guild. She also taught Yorkton Creator's 4H sewing class for several years, where her daughter Shirley became quite a talented sewer. Joyce was a homemaker at heart, a quiet person, content to be at home. She spent many hours at the stove, cooking and baking, and preparing food for family and hired help, especially at harvest time, when she would bring meals-on-wheels to the combining crew. She was always a helpmate for Dan, in whatever he did. She always stood beside him and encouraged him, no matter what he did. She especially enjoyed her grandchildren and great-grandchildren, and always welcomed the chance to babysit them. She enjoyed going camping with the family in summer holidays, and later on the grandchildren would like to go with them. She also enjoyed going on several cruises with Dan and in 2008, went on a motorcoach tour to the Maritimes, which she truly enjoyed. Joyce and Dan retired from farming in 2000, when they moved into Yorkton. Joyce became involved in the rental house business after purchasing several houses in Yorkton. Again, they worked together, side by side, enjoying what they did. Joyce is predeceased by her parents, Peter and Emma; her beloved husband Dan; her second husband Art; her sister Evelyn; brother-in-law John; daughter-in-law Marie; and grandsons Matthew and Carter. She leaves to celebrate her life her children: David, Tim (Corinn), Harvey, Shirley (Dale), Jerry (Carmella), and Ken; and grandchildren: Brooklyn, Justine, Jolene, Jake, Jennifer, Kristal, Emma (Darren), Connor (Sam), Courtney (Parker), Kiara, Kaybrie, Kennedy, and Kamry; and great-grandchildren: Nikita, Danika, Liam, Vienna, Carter, Leeya, Hanna, Ella, and Ambrose; as well as her favorite cousin Shirley, and many nieces, nephews, relatives, and friends. Joyce's family would like to extend their sincere gratitude to Yorkton Regional Health Centre doctors, nurses, and staff; extended family and friends who sent flowers, food, donations, and kind thoughts and prayers. The family would like to thank Ray and Margaret Ann Yost; the Mens Group and staff at St. Paul's Lutheran Church; special music from Brooklyn and David; Bailey's Funeral Home for arrangements; All About Flowers; and all of the Bentley Family Staff. Special thanks to the casket bearers, and a final thank you to everyone who attended to celebrate Joyce's beautiful life. Charitable donations in memory of Joyce Lutz may be made to St. Paul's Lutheran Church. The funeral service was held on Saturday, April 22nd 2023 from St. Paul Lutheran Church in Yorkton with Ray Yost officiating. Hymns were 'Borning Cry', 'Here I Am Lord', and 'How Great Thou Art'. Son Jerry gave the eulogy. Special music was by Brooklyn Lutz – 'Here O' Lord'. Courtney Lutz read the poem 'Mother's Never Die'. Kennedy & David Lutz read scripture. The interment took place in the Garden of St. Matthew at the Yorkton Memorial Gardens with Joyce's grandchildren serving as the casketbearers. The great grandchildren were the honorary bearers. Condolences can be left at baileysfuneralhome.com.
To send flowers to the family or plant a tree in memory of Joyce Lutz, please visit Tribute Store
Visitation
6:30 pm - 8:00 pm
Friday, April 21, 2023
Bailey's Funeral Home
45 Fifth Ave. N.
Yorkton, Saskatchewan, Canada
(306) 783-7552
Funeral
11:00 am
Saturday, April 22, 2023
St. Paul Lutheran Church
73 Smith St. E.
Yorkton, Saskatchewan, Canada
306-783-4266


Share Your Memory of
Joyce