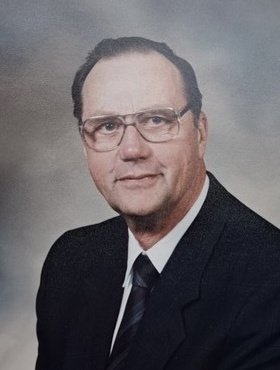 Obituary of Bevyn Keith Hopkins
Mr. Bevyn Hopkins, husband of Lorna Hopkins of Yorkton, passed away April 8, 2023 at the Yorkton and District Nursing Home. He was 93 years of age.
A private Memorial Service will be held.
Memorial donations in memory of Bevyn may be made to the Canadian Liver Fouation as gifts of remembrance.
Bevyn was born to Harry and Evelyn (nee Rogers) Hopkins in Elm Creek, Manitoba on September 27, 1929. He grew up on his parents' farm and attended Wingham school. He was first away from home when he and his Dad went to work at a Lumber Camp in Vermilion Bay in 1951. In 1952 he went on a work crew to Resolute Bay.
It was in 1953 he started work with Federal Grain Ltd. on a grain elevator construction crew. He worked his way up to foreman, and continued with Federal Grain until the company was sold to the Prairie Pool companies in 1972. At that time he moved over to United Grain Growers. He continued building grain elevators across a large area of Manitoba and Saskatchewan until his retirement. He retired a few years earlier than he might have when wooden grain elevators were replaced by inland terminals of concrete and steel. All three of his sons worked on his construction crew at some time.
Bevyn married Lorna Couch on July 19, 1958. They met when she went to teach at Wingham school where she taught with his mother, Evelyn. They made their first home in Assiniboia, SK where their first children, twins Keith and Kerry were born March 2, 1959. The birth of twins was a surprise on the day they were born.
After the twins were born, they moved to Yorkton which was central to the area Bevyn would cover in his work. Bob was born January 28, 1960 and a final son, Jon was born on October 11, 1963. At the time of Jon's birth, Bevyn was in the middle of moving between one job location and another. It was an old time telephone operator who finally managed to track him down and let him know that Jon was on the way. (And a beautiful baby Jon was.) When he began, Bevyn generally worked away from home for 2 weeks before being home for a weekend. Later that changed to being away during the week and home on weekends.
Dad was a man of few words who didn't like a fuss. He was a solid foundation to his family. In March of 1973, the family was rocked by Kerry's death from liver disease. More than any other event in the family's history, this shaped the future. Bevyn remained the calm and steady presence he has always been. In particular he has been a constant to his grandchildren. Grandchildren Virginia, Franklin and Victoria were born to Keith and Debbie during the time they were married, and born to Jon and his wife Kirsty, a son, Scott and daughter, Emily.
Bevyn was father to four children and grandfather to five. Nothing was more important to him than his family.
Bevyn remained sharp until the time of his death. It was due to the dedicated care of his son, Keith, that both he and his wife of just short of 65 years were able to stay in their home as long as possible. Declining health finally forced him into the nursing home where he spent his last couple of years. Although he suffered ill health, he was uncomplaining and always appreciative of the care he received. Lorna joined him in the nursing home about 6 months ago and it seems it was knowing that she would be looked after that allowed him to let go.
"Dad was so quiet and steady it feels like he is still here, just no longer lying in his bed in the nursing home struggling to breathe." And from his granddaughter," He was the best man I ever knew."
To send flowers to the family or plant a tree in memory of Bevyn Hopkins, please visit Tribute Store
Services for Bevyn Hopkins
There are no events scheduled. You can still show your support by sending flowers directly to the family, or planting a memorial tree in memory of Bevyn Hopkins.
Visit the Tribute Store


Share Your Memory of
Bevyn