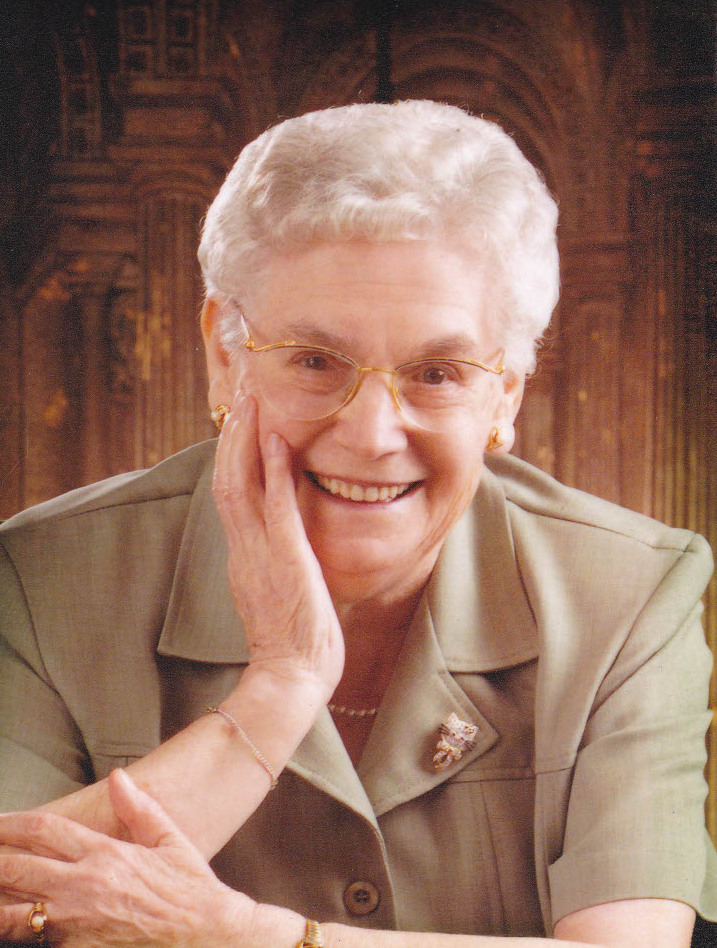 Obituary of Meta Knodel
Meta Ellenda Knodel was born January 20, 1922. She was the oldest child of Adolph and Magdalena (Fink) Schrader. She grew up on the family farm in the Otthon district. Meta attended Jaroslaw School, which was closest to the homestead, with her siblings. She was married to Donald Knodel on July 23, 1947 and farmed with him in the Rokeby area. In 1972, she moved to Yorkton and lived with her parents in their house on Myrtle Avenue.
Meta looked after her parents in their later years. She was a devoted caregiver to both her parents in their later years, seeing her mother, Magdalena, through her cancer journey, and later caring for her father, Adolph, as he reached the end of his life's journey.
Meta had a green thumb and would tend to a large garden around the house on Myrtle Avenue. Her spectacular flower gardens were always weed free and it seemed she could grow almost any decorative plant. Her vegetable garden was always very productive, giving her produce to put up for later.
Meta was a lifelong member of the Baptist church, faithfully attending Central Baptist, and later Heritage Baptist Church, as she was able. Her church service was an important part of her faith. For many years, Meta helped with children's groups, such as Discovery Club where she was a Pilot. She was a member of the ladies' ministries and would assist with Sunday School instruction. She was a long time member of the choir of both church choirs and took part in many activities. Caleb's Companions, a Bible study, was a favourite.
She was a talented baker and cook and she didn't seem to need a recipe to work her magic in the kitchen. Meta would often help in the church kitchen when needed to assist at a celebration.
Meta was a very talented seamstress who made clothes for herself and her nieces and clothes for her niece's Barbies. She made these creations on a vintage Singer treadle sewing machine. Other crafts Meta enjoyed were painting by number, crocheting, and quilting. Meta made many quilts and crocheted afghans lovingly created by hand for family members and friends.
In 1993, she moved into Queen Elizabeth Court. She enjoyed many friendships and took part in many activities while living there. Surely a highlight of her time there would have been the afternoon coffee gathering, where a group of first floor residents would gather after the afternoon soap operas to discuss their days and enjoy each other's company.
In 2017, she was moved to the Yorkton and District Nursing Home when she was no longer able to live independently.
Meta's dementia diagnosis was the reason she was admitted to Skinner Unit and, later, Melody Manor. In the early stages, she was very much herself and participated in any activity that allowed her to sing. She loved cats and was sometimes found in her room, meowing to her plush cat and talking to the care aides about their cats. As her condition progressed, her activities and interactions lessened until, eventually, she was bedridden. And, finally, she peacefully went to her rest.
Meta is predeceased by her daughter, Norma; her parents, Adolph and Magdalena; her sister, Pearl; and her brother, Edwin.
Her memory lives on with her nieces and nephews and many friends.
Many thanks to the staff of Skinner Court and Melody Manor for looking after Aunt Meta in her final years. Even more thanks to Jan Dunn for being a friend and carer to our aunt during this final stage of her journey.
The Funeral Service was held on Saturday, May 6, 2023 from the Yorkton Memorial Gardens Family Center with Pastor Brian Kirsch of Heritage Baptist Church officiating. The eulogy was given by Karen MacDonald. Pianist Amanda Buhler led the congregation with the hymns and sang a solo. The interment followed in the Yorkton City Cemetery with Diane Kacher, Karen MacDonald, Sandra Lesko, Fred Schrader, Adam Daniels and Murray Rennie serving as casket bearers.
To send flowers to the family or plant a tree in memory of Meta Knodel, please visit Tribute Store
Funeral Service
10:00 am
Saturday, May 6, 2023
Yorkton Memorial Gardens Family Centre
Highway #10 E.
Yorkton, Saskatchewan, Canada
306-783-4772


Share Your Memory of
Meta