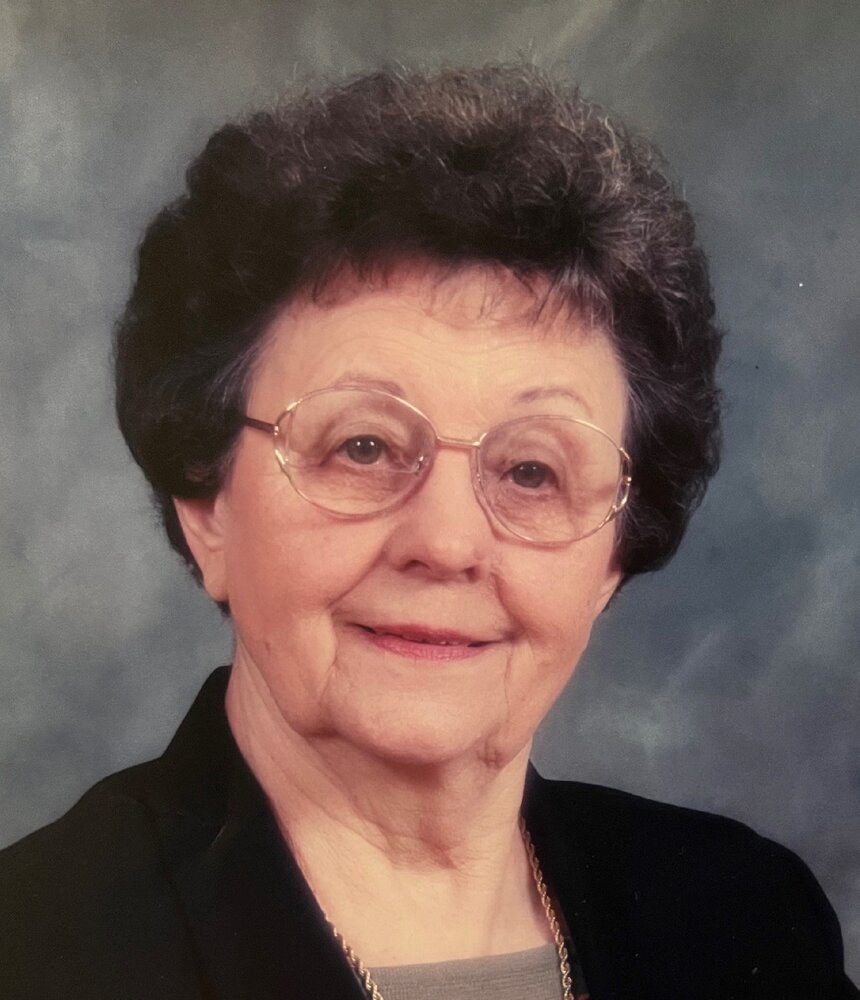 Obituary of Irene Dora Gabel
Irene Gabel, wife of the late William Gabel, much loved Mother, Grandmother, and Great-Grandmother passed away peacefully in her sleep at the age of 98 years old on April 27, 2023, at Country Meadows, Yorkton & District Nursing Home in Yorkton, Saskatchewan.
Irene Dora Gabel (nee Herman) was born August 7, 1924, in the Fenwood/Duff, Saskatchewan area to Adam and Philippina Herman. Irene was born the third of six children, helping her parents on the farm and attending Yola School, which was a mile from the homestead. In the summer her and her siblings walked to school and in the cold winter months they would get a ride with their neighbours, the Stephans, in their caboose pulled by horse. She lived on the family farm until August 31, 1941, when she married the love of her life, William. Then with the help of both their parents they started their own farm in the Fenwood area, where Ron and Bev were born. In 1962 they moved off the farm to Yorkton, where Bill got a job at Morris Industries, and Irene was employed at the new Yorkton Union Hospital for about five years. Then in 1974 they built a house in Otthon, next to Ron and Doreen. She enjoyed babysitting, including her own grandchildren, tending to her huge garden, including canning and pickling, cooking and baking wonderful food, faithfully attending church, and having a Sunday School camp in the summers for the local children. Another highlight of her summer was allowing the Ferster fruit truck to park in their driveway for the community to pick up their fresh fruit.
In 1985 Bill passed away, and four years later she moved to a condo in Erichsen Place in Yorkton, where she enjoyed the company of her fellow tenants. In 2011 due to her failing eyesight, she moved to the Bentley Care Home, then in 2019 due to a deterioration in her health she relocated to the Country Meadows, Yorkton & District Nursing Home until the time of her death.
Irene was predeceased by her husband William Gabel; parents Adam Herman and Philippina Herman (nee Frick); father and mother-in-law, Fred and Sophie Gabel; sisters Edith Seib, Violet Schick/Dempster, and Nora Miller; brothers Louis and Willie Herman; sisters-in-law Helen Herman, Bertha Gabel, Emma Gabel, Helen Gabel, and Bertha Klein; brothers-in-law Carl Seib, Alfred Schick, Henry Dempster, Dan Miller, Edward Gabel. Ben Gabel, and Joe Gabel; son-in-law Elroy Ulmer; and grand-daughter Carla Gabel.
Left to cherish her memory are her children, son Ron (Doreen) Gabel and daughter Bev Ulmer; grandchildren Terri Ulmer, Dwayne (Carmen) Gabel, Dean (Bettyanne) Gabel; great-grandchildren Scott, Pierce, and Kalah Gabel, Zach (Jessie) Gabel, and Jake Gabel; great-great-grandchildren Kayden, Kayson, and Kyler Gabel; extended family Jessica and Danny (Ivy, Hunter, Cara) Schick, Callie (Nickoli) Reid, Luke Reid, and sister-in-law Violet Herman.
The family wishes to thank everyone for their prayers, support, words of comfort and acts of kindness during this difficult time. We would also like to thank Dr. VanHeerdan and the staff at Country Meadows for the care that Irene received as well as Bailey's Funeral Home for their compassionate guidance and direction in making our arrangements.
The Funeral Service was held on Monday, May 8, 2023 from the Chapel of Bailey's Funeral Home, Melville, Saskatchewan with Pastor Steve Rosluk of First Baptist Church, Yorkton officiating. Words of remembrance was given by Dwayne Gabel. The interment followed in the Melville Municipal Cemetery with Dean Gabel, Jacob Gabel, Zachary Gabel, Scott Gabel, Pierce Gabel and Dwayne Gabel serving as casket bearers.
To send flowers to the family or plant a tree in memory of Irene Gabel, please visit Tribute Store
Funeral Service
2:00 pm
Monday, May 8, 2023
Chapel of Bailey's Funeral Home
1015th St.W.
Melville, Saskatchewan, Canada
306-728-5488


Share Your Memory of
Irene