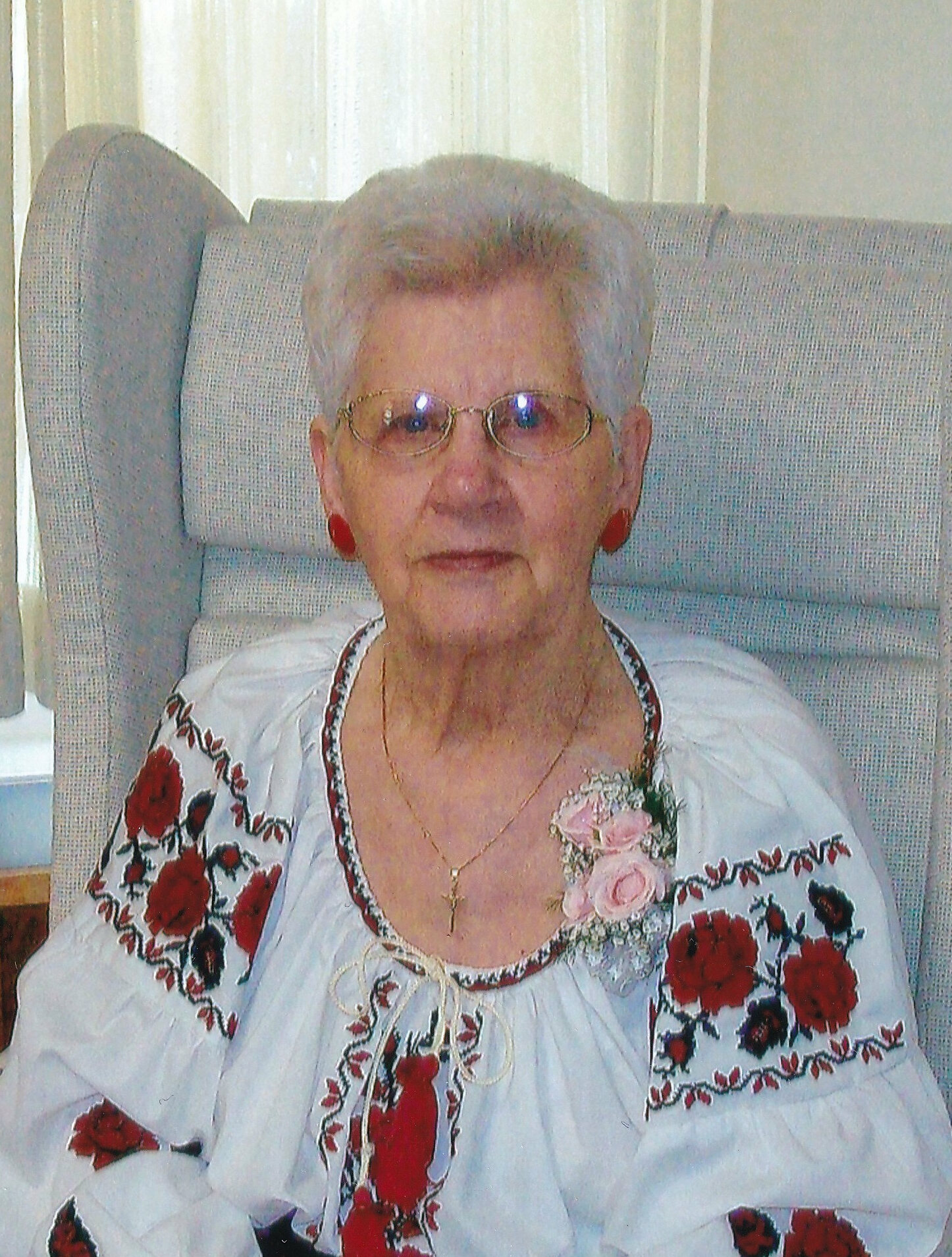 Obituary of Stella Matsalla
At the age of 100 years and 5 months, Stella Matsalla (nee Boychuk) has finally become pain free and is resting in the arms of God. She was the seventh of nine children who all predeceased her, four brothers and four sisters: Mary, Ann, Lena, Peter, and Valdemare Antoniw, plus Pauline, Michael, and Bill Boychuk; as well as her parents Mike Boychuk and Martha (nee Kuculeyma) Antoniw-Boychuk; Stella's husband, Joseph; her only son, Louie; two daughters, Delores Slaferek and Lucy Kazakoff; four grandsons: Teddy Kazakoff, Joseph, Leonard, and Johnny Balaniuk; and her granddaughter Jolene Balaniuk.
Stella was born November 8, 1922 on the farm her parents owned near Mitchellview, Saskatchewan. She went to school at Oleshaw for only a few years. Having two brothers, Valdemare Antoniw and Michael Boychuk, who were very disabled physically, she had to quit school to help her parents on the farm. After both brothers died, she went to work for a wealthy family not far from home at $4.00 a month. At the age of 18, she married Joseph Matsalla and from that day forward life became a real challenge.
They lived with her in laws for a year, moved to Hazel Dell then Foam Lake, over to Benito, where they bought a café and Stella worked day and night to make a living. Everything was homemade: pies, hamburgers, french fries, cabbage rolls, etc. Life took a frightening turn when the polio epidemic hit and her second oldest daughter got polio at the age of seven. They sold their restaurant and moved to Kamsack because they had a good hospital; where they remained until Joseph passed away in 1993 and Stella moved to Melody Manner in Yorkton in 2019. That had to be the toughest time of her life because by now she was deaf and at some point, nobody really knows when, she must have had a stroke because she could hardly speak.
Stella spent all of her life helping others, having her elderly parents move in with her until their passing. As a mother of four girls, she worked as a waitress in every café in Kamsack, plus head cook at the steakhouse. She then got home for a little while, changed her clothes, and went over to the Catholic Hall to cook for a banquet, wedding, or other event. Stella tended a large garden and got the U.C.W.L. to grow potatoes and cabbages so they could make and sell cabbage rolls and perogies to build a new church in Kamsack and to remodel the Catholic Hall. Stella was always in demand as a cook for hundreds of weddings from Manitoba to British Columbia.
She raised a beautiful garden, she canned and pickled, and kept her home spotless. She loved to play cards, and boy did she ever love to dance. Regardless of how late the dance ended she always made it to Church on Sunday morning. St. Josephat Ukrainian Catholic Church in Kamsack was very important to her. So her final days on earth will end with a last mass from the Church she worshipped and prayed in – with her family around her.
Stella will always be remembered with a lot of sorrow for how she suffered the last five months of her life and an endless amount of love for all the goodness that she was able to share with her family.
Stella leaves behind her two daughters Connie (Bill) of Winnipeg, her children Crystal and Kimberly (Tyler); and Pauline (Johnny) in Yorkton, and their children Theresa (Ken) Darcy, Timothy, and Martie. She will also be remembered by her late daughter Lucy's family: son-in-law Lawrence; and Lucy's children Cindy, Wendy, and Jimmy; her other late daughter Delores' children Ken, Michelle, Freddy, and Danny; late grandson Johnny's family: wife Trish and sons Jarren, Nathan, and Brennan Balaniuk; plus 13 grandchildren, 28 great-grandchildren, and 9 great-great-grandchildren.
Prayers were held on Monday, May 8, 2023 from St. Josaphat's Ukrainian Catholic Church Kamsack, SK, preceded by the rosary led by the UCWL. The Funeral Liturgy was held on Tuesday, May 9, 2023 from St. Josaphat's Ukrainian Catholic Church, Kamsack, SK with the Very Rev. Fr. Joakim Rac as Celebrant. The UCWL held an honor guard. The cross bearer was Darcy Balaniuk and the Epistle reader was Pauline Balaniuk.The interment followed in the Yorkton City Cemetery with Theresa Tkachuk, Martie Balaniuk, Wendy Broda, Cindy Natuik, Michelle Slaferek, Crystal Kinnaird and Kimberly Altomare serving as casket bearers. Memorial donations in Stella's memory may be made to St. Josaphat's Church (114 West Ave., Kamsack, SK S0A 1S0) as gifts of remembrance.
To send flowers to the family or plant a tree in memory of Stella Matsalla, please visit Tribute Store


Share Your Memory of
Stella