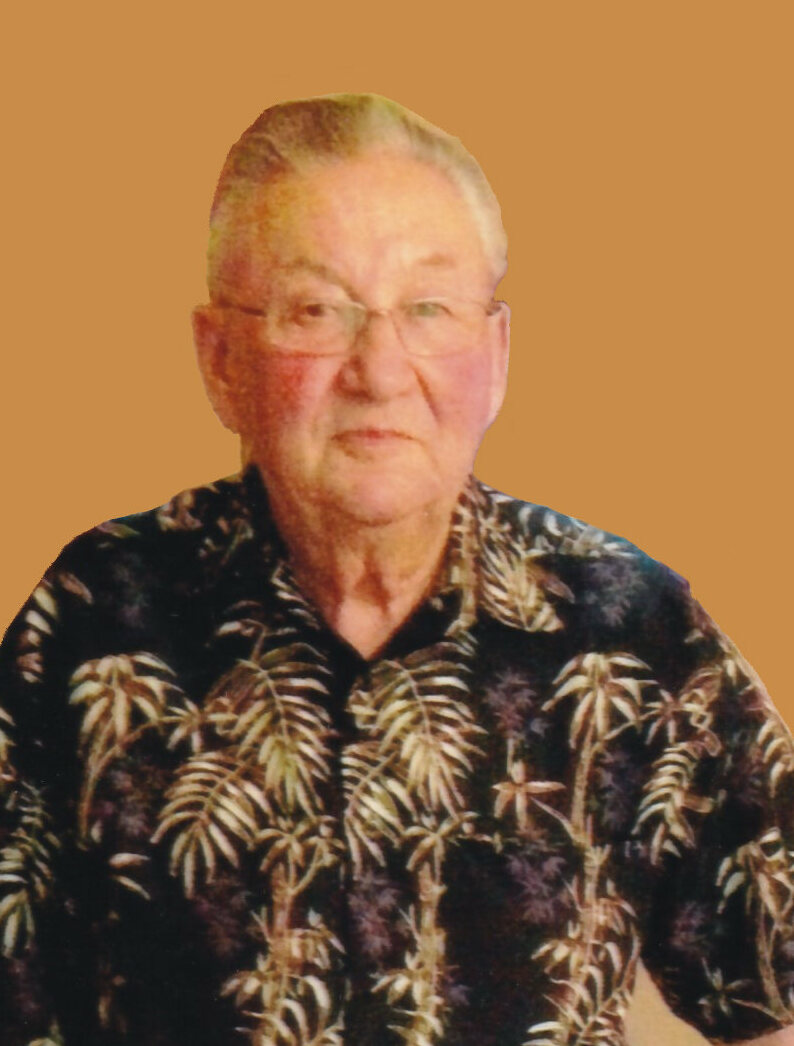 Obituary of Mervin Elmer Schwartz
The family of Mervin Schwartz sadly announce his passing at the Yorkton Regional Health Centre on April 30, 2023, at the age of 91.
Mervin Elmer Schwartz was born in Rhein, Saskatchewan on April 16, 1932 to J.J. Schwartz and Lena (nee Werschler) Schwartz. He was raised and spent a good portion of his life living in Rhein and area. He attended the Rhein School, and in his teenage years he became involved in the Schwartz family business' as well as the farm operation.
In 1953, he met Helen Bilous and in 1955 they were married at the Christ Lutheran Church in Rhein. Mervin and Helen had two daughters: Debbie and Shelley.
He enjoyed being involved in the community, he was one of the founding members of the Rhein Lions Club, participated in curling, broom ball, baseball, and volunteered his time at the community skating rink.
In his leisure time he loved hunting and fishing and many trips were taken up north with close friends and family. Time was also found to enjoy the family cabin at Madge Lake.
In 1980 they built their new home on the farm, a place they both loved and enjoyed. They worked hand in hand and loved the farming life. In 1995 they sold the farm and moved to Yorkton, where they met many new friends and enjoyed the company of their great neighbours. He enjoyed spending his time with his coffee friends and looked forward to weekday morning and afternoons.
Life changed on May 22, 2018, sadly and suddenly Helen passed away after 63 years of marriage. Mervin found it difficult to be alone. He later moved to the Bentley, where he enjoyed socializing with the staff and residents. As his health declined, he moved to the Yorkton and District Nursing Home, where he enjoyed the staff and they became as close as family.
A life of 91 years well lived. He was a loving Husband and the best Father, placing the needs of his family before himself.
He is survived by his daughter, Shelley; sister Janice; grandchildren Derek (Tara), Brandi, Ryan, and Dean (Molly); great-grandchildren Chesney, Lilly, Cadence, Miles, and Mia; his godchildren Kim, Todd, Steven, and Stacy; sisters-in-law Jenny, Mary, and Eleanor; brother-in-law Raymond; cousin and close friend Lloyd; and many nieces and nephews and good friends.
He was predeceased by his parents; wife Helen; daughter Debra; son-in-law Garry; brothers-in-law Bud, Archie, Meldrum, Russell, Robert, and Harold; sisters-in-law Ann, Sylvia, and Elsie; father and mother-in-law Steve and Katie; and numerous aunts, uncles, and cousins.
We were so blessed to share in his life of 91 years as a wife, daughters, sister, grandchildren, great-grandchildren, nieces, nephews, cousins, and his caregivers as his family.
As per Dad's wishes a private family service will be at a later date.
This is not goodbye Dad, this is 'til we meet again. Love you forever.


Share Your Memory of
Mervin