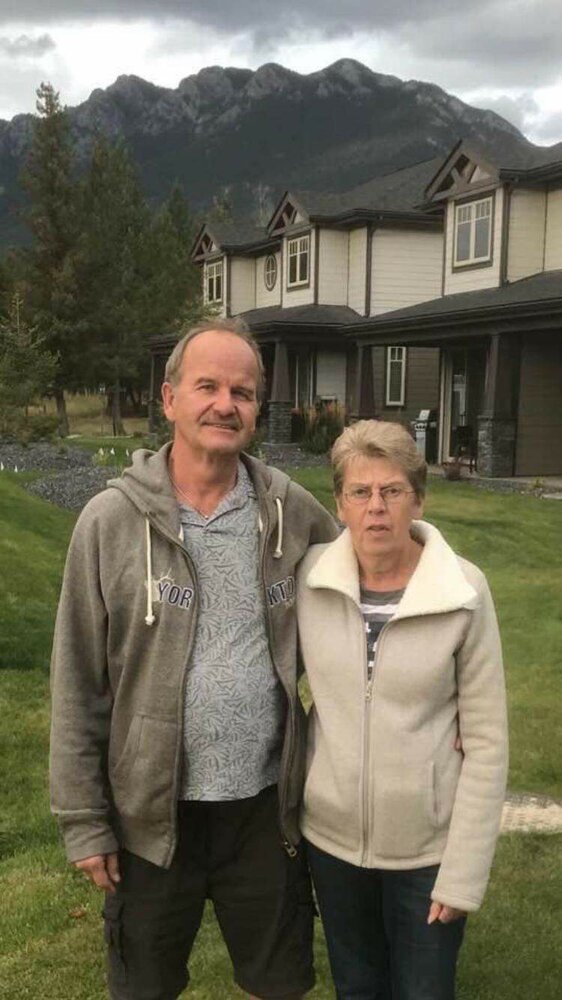 Obituary of Donna & Charlie Shchyschuk
Donna was born to Norman and Viola Hearn on April 19, 1962, in Preeceville Saskatchewan. Donna grew up on the family farm located two miles west of Preeceville. She attended school in Preeceville.
Her early years were spent playing with one of her best friends who happened to live across the road, and her name was Donna as well. Both girls were devastated when Donna found out that Donna May was moving away– Donna even tried to get Mom to let Donna May move in with us. Donna had a soft spot, especially for children and animals and seemed to collect the four-legged kind - dogs (4), cats (4), and a couple of horses which she claimed. She even wanted to take one back to Hudson Bay with her, she just had to figure out how to get it into the van without anyone noticing.
Charles/Charlie was born May 24, 1958, in Canora Saskatchewan to Laddie and Aloma Shchyschuk of the Danbury area. Charlie spent his younger years on the farm located 3 ½ miles north of Danbury. Charlie started his schooling in Danbury then went to High School in Sturgis where he graduated. In school he excelled in track and field, winning many ribbons. His endless curiosity and desire for learning showed through in anything new that he approached.
Donna and Charlie met in 1978/79 and they were married on April 5, 1980, at the United Church in Preeceville. They would have celebrated their 43rd anniversary this year. Even though they were not blessed with children of their own, they had many nieces and nephews who were very important and dear to them.
Charlie was employed in Hudson Bay at Sask Ply. This was where they made their first home together. Donna found employment at the local day care - which she loved - caring for "her children."
After living in Hudson Bay, Estevan, and Regina they moved to Yorkton and started working at Canadian Tire.
They both spent many years working there, meeting and making many wonderful friends. Charlie then moved over to Yorkton Dodge – where in true Charlie style came more friends.
In February of 2019 Donna was diagnosed with breast cancer – although she fought valiantly for over 3 years, a cure was not in the cards, and she passed away August 30, 2022, peacefully with family and friends by her side.
While Charlie spent the past three years of his life caring for Donna and trying to find anything to help her, he was diagnosed in May of 2022 with liver cancer. Even though he was ill himself he still was worried about Donna, not himself – he fought to stay with us as well, but on December 26, 2022, Charlie went to join Donna.
A big thank you to all that helped them during this time, taking them to appointments, for groceries, etc., visiting some for hours, bringing home made meals and goodies, and the phone calls. I know they really appreciated it.
There are so many people who helped unselfishly with so many things that should be named, however you know who you are. Thank you so very much.
Thank you to Doctors amd Staff at Yorkton General Hospital, Regina Pasqua Hospital, and Allan Blaire Cancer Clinic. Thank you to Jowsey House Caregivers and Staff for the excellent care given to both Donna and Charlie. Thank you to Bailey's Funeral Home for the superior care and compassion during what was and is a truly sad time. All shall never be forgotten.
To send flowers to the family or plant a tree in memory of Donna & Charlie Shchyschuk, please visit Tribute Store
Memorial Service
1:00 pm
Saturday, June 3, 2023
Yorkton Memorial Gardens Family Centre
Highway #10 E.
Yorkton, Saskatchewan, Canada
306-783-4772
Interment
Yorkton Memorial Gardens
Highway #10 East
YORKTON, Saskatchewan, Canada


Share Your Memory of
Donna & Charlie