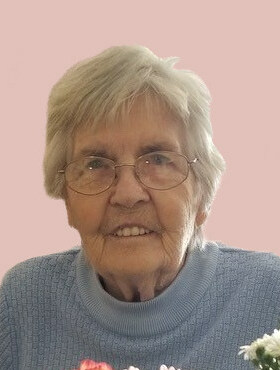 Obituary of Thelma Tatton
The family of Thelma Tatton, beloved wife of Eric Tatton, sadly announce her passing on May 27, 2023. She was 92 years old.
Thelma Ruth Babcock was born on April 29, 1931 to Jake and Edna (Pearl) Babcock. She grew up in the Waldron area, and attended Marwin School.
Thelma married Eric Tatton on October 26, 1950. They lived on the family farm in the Aston district, growing grain and raising cattle. They took great pride in their farm yard. It was always immaculate, with the grass neatly trimmed, large vegetable gardens, and Thelma's pride and joy, her flower beds. She used to say that you can never have too many flowers!
In her younger years, Thelma sewed, crocheted, did needlepoint and cross-stitch. Many pieces of her handiwork were framed and proudly displayed. She was a member of the Aston Busy Bees for many years, and also the Bangor Heritage Club. Thelma loved to watch her grandchildren play sports, and was their loudest cheerleader!
Eric and Thelma retired to Yorkton, where they still maintained a huge yard, garden and many flowers. In early 2020, Thelma was admitted to the Yorkton Nursing Home, and then later the Ituna Pioneer Care Centre, where she and Eric both stayed.
Thelma leaves to mourn her husband of 72 years, Eric, her son Don (Marlene) Tatton her daughter Karen (Greg) Krasowski, sister Elaine Nichol, brother Harvey (Shirley) Babcock and Grandchildren Chris (Michelle) Tatton, Carey (Melanie) Tatton, Kevin (Lynette) Tatton, Karla (Vince) Kitzul, Darrell (Carmen) Krasowski, Steven (Lori) Krasowski, Scott (Lindsay) Krasowski, Amy (Kevin) Krasowski, and many Great Grandchildren.
The family would like to give special thanks to the Yorkton Nursing Home and the Ituna Pioneer Care Centre for the love, support and special care that they gave to Thelma. You truly made her feel loved.
A private family funeral service will be held in the summer.
Memorial donations in memory of Thelma may be made to the Alzheimer's Society as gifts of remembrance.


Share Your Memory of
Thelma