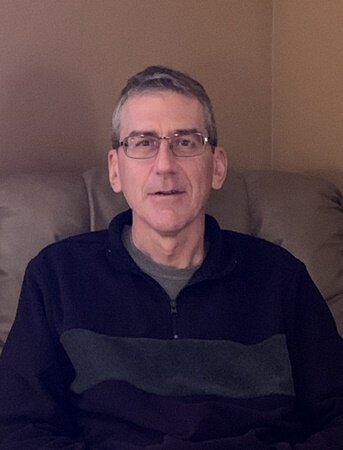 Obituary of Brent Brezinski
Brent John Brezinski
January 26, 1969 – June 1, 2023
The family of Brent Brezinski sadly announce his passing on June 1, 2023. He passed away at the Yorkton Union Hospital after a short illness. Brent is survived by his loving parents Ernie and Lois Brezinski and siblings Michele (Mike) Haczkewicz, Curtis (Carrie), nieces Jennifer and Kelsey, and nephew Joshua. He will be remembered by his aunts and uncles Gloria Brezinski, Phillip and Jane Brezinski, Glen and Rose Brezinski, Fran Bradshaw, Elaine and Garry Johnson along with numerous cousins and friends.
Brent is preceded in death by grandparents John and Lena Brezinski, John and Mary Kiniak, aunts and uncles Gloria Kiniak, Walter and Stella Brezinsky, Lawrence Brezinski, Ruth and Joe Kozak, and cousins Glenda Brezinsky and Robin Brezinski. Brent was born and raised in Yorkton. He was a stellar athlete competing in basketball and volleyball. The highlight of his volleyball career was being selected to play on the 1987 Canada Games Volleyball Team representing Saskatchewan in Halifax, Nova Scotia. He was fortunate to crack the starting line-up and from his right-side position on the court he helped the team capture the gold medal in a hard-fought thrilling final match against Quebec.
He was also highly academic excelling in Math and Science. Brent left high school and headed to the University of Saskatchewan where he was enrolled in the College of Engineering. In the midst of his schooling, he was challenged with an illness that led him down a path towards schooling at SIAST in Moose Jaw where he studied Information Technology and Accounting. Fresh out of school, he relocated to Meadow Lake where he found employment with an Accounting Firm. Life up north wasn't easy, and he chose to return to Yorkton and the support of his family. Brent quickly sought out a position at the Yorkton Union Hospital working in the Dietary Department.
His arrival back at home was an added bonus to his mom and dad whom he assisted with yard work, and home maintenance. He was a great cook who loved to create meals in his nearby apartment and was quick to share recipes.
He found much joy in family get-togethers, playing games like canasta and dominoes. Brent always found himself partnered with Grandpa Ernie, who we affectionately refer to as 'The Master,' when he is seated at the card table. Ernie and Brent were constantly subjected to light-hearted ribbing from the rest of the family, especially from Curtis and Mike, master trash talkers. He also enjoyed the outdoors walking, fishing, boating, and swimming.
Brent was a kind-hearted soul, willing to lend a hand to whomever needed assistance. He never spoke a bad word about anyone and lived his life to its fullest. He made the best of each day, never once questioning why.
The Funeral was held on June 12, 2023 from the Yorkton Memorial Gardens Family Centre with Crystal Bailey, certified celebrant, officiating. Words of Remembrance were shared by Mike Haczkewicz and Kelsey, Jennifer, and Joshua Haczkewicz. The musical selections were "Amazing Grace" and "Somewhere Over the Rainbow/What a Wonderful World". The interment took place in the Yorkton City Cemetery with Curtis Brezinski and Michele Haczkewicz serving as urn bearers. Memorial donations may be made to SIGN Mental Health (345 Broadway St. W Yorkton SK S3N 0N8) or Bruno's Place (139 Dominion Ave, Yorkton, SK S3N 1S3) as gifts of remembrance. Messages of condolence may be shared at baileysfuneralhome.com.
To send flowers to the family or plant a tree in memory of Brent Brezinski, please visit Tribute Store
Funeral Service
11:00 am
Monday, June 12, 2023
Yorkton Memorial Gardens Family Centre
Highway #10 E.
Yorkton, Saskatchewan, Canada
306-783-4772


Share Your Memory of
Brent