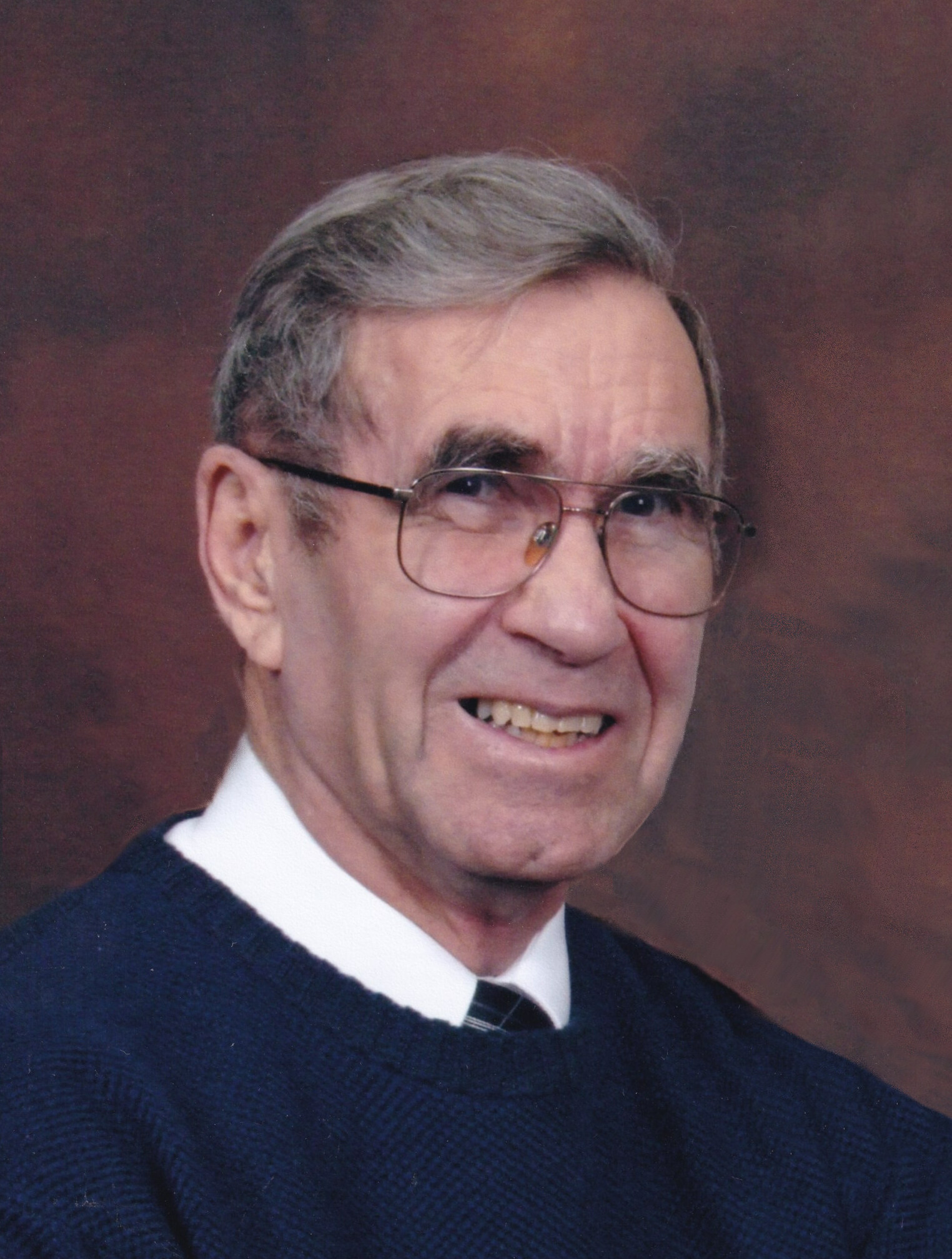 Obituary of Herb Scholz
The family of Herb "Butch" Scholz of Yorkton and formerly of Langenburg, beloved husband of the late Arni Scholz, sadly announce his passing on June 24, 2023. He was 91 years of age.
The Memorial Service will be held on Wednesday, August 30, 2023 at 2:00 p.m. from the Yorkton Memorial Gardens Family Centre. The interment will follow in the Garden of Crucifixion, Yorkton Memorial Gardens.
Click here to access livestream.
Memorial donations may be made to a Charity of One's Choice as gifts of remembrance.
Obituary of Herbert 'Herb or Butch' Scholz
'Simply the Best'
Born Herbert Robert Scholz on December 5, 1931 in Langenburg, Saskatchewan, son of Walter and Clara Scholz. Herb married Arni Heindel from Esterhazy, Saskatchewan on July 31, 1955, in Langenburg. This union brought them three children.
Herb was a devout husband and father supporting his family in their interests and dreams. He was a man who honored his faith. He was very active in volunteer activities in Langenburg and Yorkton. He often told his family his favorite was being a volunteer fireman. The family was brought up on the sacred red-hot-line telephone which paralleled the Bat-phone from the old Batman TV series. He was on countless committees and boards including town council, various sports and the arts, church council, the Fish and Game, the hospital board to name a handful. He loved competitive sports. Herb was an avid curler, a chippy playmaker hockey player, a quick gloved shortstop and high percentage batter, and a converted Roughrider fan after being brought up on the dreaded Blue Bombers.
Herb managed the family's 65-year John Deere business founded by his father. A creative businessman, he branched out as a short line dealer to expand beyond just John Deere green. After his retirement he had a couple of steady on-call jobs serving as a regional Justice of the Peace officer with the RCMP detachment in Langenburg. But, his favorite was serving as a coroner (31 years) in both Langenburg and Yorkton. He often said, 'This was the most enjoyable and rewarding job I ever had.'
Herb had many outstanding qualities beyond being a businessman and community volunteer. A philanthropist at heart along with his wife, Arni. As the years have gone on the family continues to hear stories of how he reached out to people in emotional support as well as resources. He also could be considered an oral historian. An excellent storyteller in a myriad of areas often combined with a life lesson or two thrown in for good measure. Colorful stories about his family history going back to his grandparents in Germany. Business stories to illustrate the essentials necessary to create customer service and thinking outside the box. Current and past events to make one ponder and think about everyday implications. Sports stories and situations he either played in or observed that made one drill down to the nuances that gave one the edge, usually translating into metaphors applicable to everyday life.
Remembering Herb and distilling his life from a full nine decades is a wonderful time of reminiscing yet a hard synopsis. His commitment to family and the community does stand out. When people say someone was a good man or good woman, Herb was a GOOD well-meaning caring soul. His family and friends wouldn't hesitate to echo the words of Tina Turner's song, Simply the Best.
Herb is survived by his children, Gay (Timothy) Fehr of Eau Claire, Wisconsin, Guy (Maxine) Scholz of Regina, and Holly (Randy) Berg of Yorkton; six grandchildren: Graeme (Bethany) Fehr of Fridley, MN, Roberta (Justin) Liebergen of Menasha, WI, Anah Markland of Calgary, Reed (Daran) Scholz of White Rock, BC, Stefan (Chantel) and Amy Berg of Brandon, MB; and two great-grandsons, Austin and Hudson Liebergen of Menasha, WI; and many nieces, nephews, and friends.
Herb passed away on June 24, 2023 at the Yorkton and District Nursing Home. He was 91 years of age. He was preceded in death by his parents, Walter and Clara; his wife Arni, brothers Paul and Walter, and sister Clara. and an infant grandson, Derek Fehr.
To send flowers to the family or plant a tree in memory of Herb Scholz, please visit Tribute Store
Memorial Service
2:00 pm
Wednesday, August 30, 2023
Yorkton Memorial Gardens Family Centre
Highway #10 E.
Yorkton, Saskatchewan, Canada
306-783-4772
Interment
Yorkton Memorial Gardens
Highway #10 East
YORKTON, Saskatchewan, Canada


Share Your Memory of
Herb