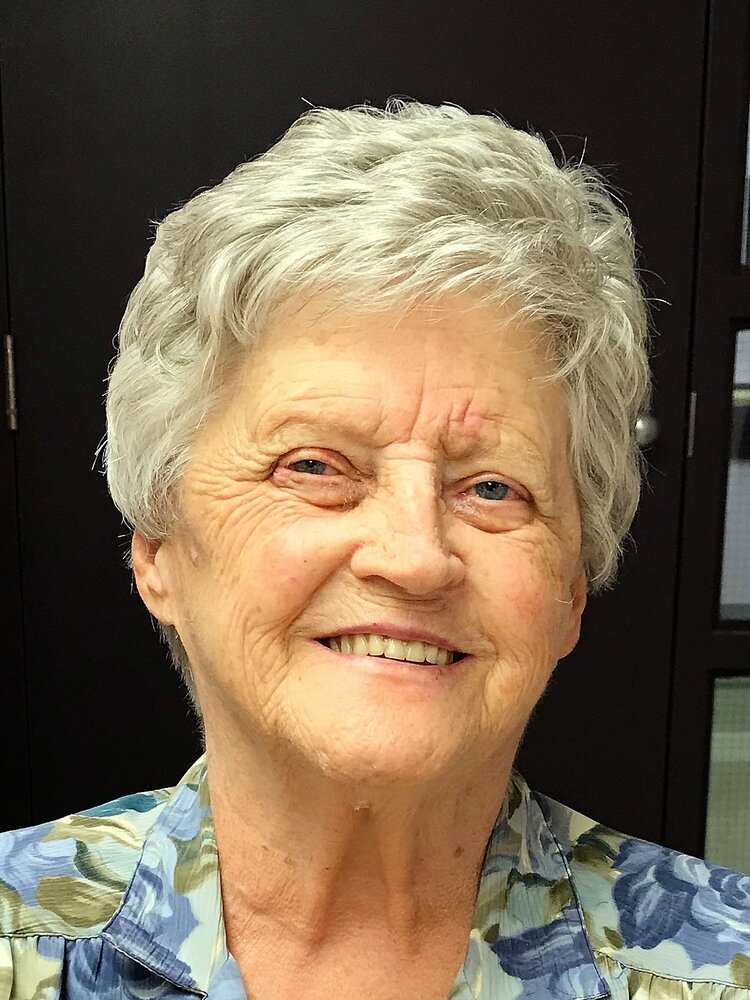 Obituary of Iris Aichele
AICHELE - With much sadness, the family of Iris Louise Aichele of Dauphin, MB, formerly of Saltcoats, SK announce her passing on July 4, 2023. She was 87 years old. Iris was a loving mother, devoted wife, fun-loving grandmother, as well as a dear daughter, sister, cousin, aunt, and loyal friend.
Iris was the youngest of three children born to Violet Baimbridge Putland of the Churchbridge District and Archibald Watson Taylor of the Bredenbury district. Iris was born on the Taylor family farm south of Bredenbury on January 10, 1936. Born premature, at 4.5 pounds Iris was a fighter from the beginning. Through her mother's wise and careful nurturing, and Iris' inner strength, she survived. This quiet strength was evident, and served her well, throughout her time on earth.
As a young girl Iris' favourite place was anywhere outside. She was her dad's "right hand lady" preferring to do outside work to household chores. Iris looked forward to playing with her pets, feeding the animals (except for the turkeys) and riding her horse, Peggy. Iris' love for animals and the outdoors grew as a young wife and mother. She always had a special pet and maintained a very large garden during her time on the farm. In later years she took much pleasure in her children's pets and asked about them even in her last days.
Mom received her education at Clumber School. School was not always enjoyable for mom. She started later than her peers and struggled to keep up with schoolwork due to ongoing health concerns. Upon completion of grade 8, she dropped out of school and received her grade 9 through correspondence. Despite mom's dislike for school, she became an avid reader, a hobby that she missed terribly in her later years when she lost most of her vision due to a series of strokes.
Iris married the love of her life, Walter Aichele on July 26, 1961. Upon their marriage, they moved to the family farm, north of Saltcoats. They were blessed with three children - Sharon, Diane, and Kevin, whom they raised together until Walter's passing in 1976. On July 9, 1977, Iris married Walter's brother, Helmut. They remained on the family farm until they retired and moved to Yorkton in 2011. Following Helmut's passing in 2014, mom lived independently in Yorkton until her health began to fail. In 2018, mom moved to Dauphin to be close to family. She lived for a short time in Happy Haven before being transferred to the Dauphin Personal Care Home, where she remained until her passing.
Until her later years, Iris enjoyed numerous hobbies which included gardening, embroidery, puzzling, reading, Paint-by-Number, playing the harmonica, and entertaining guests in her home. She loved people, enjoyed their company, and looked for any opportunity to invite guests for supper. Many neighbours, friends and family were recipients of her delicious meals. Iris loved having her home filled with her children and grandchildren whom she loved dearly.
Mom asked little of others she loved, but simply to be loved in return. Despite many heartaches and hardships, Mom chose to look on the bright side of things, displaying a quiet strength and enduring faith in God. During the last five years when she resided in the Dauphin Personal Care Home, she continued to be known for her cheerful disposition and positive spirit. Everyone was "sweetie" to her and she in turn was the essence of sweetness. She was always an appreciative of her nurses and caregivers, and they looked forward to their time with her. She continued to be a friend, and in received the friendship of numerous residents. Mom was especially grateful for her dear friend Lorna with whom she shared many special times – sharing meals, laughing, singing, and enjoying each other's company.
Through her many trials and tribulations, mom developed a strong resilience. From her greatest loss of losing our dad as a young wife and mother, to losing her independence due to strokes and other health issues, mom's remarkable ability to remain positive and cheerful is her legacy.
Left to cherish Iris' memories are her children: Sharon Airriess (partner Bryan) of Bentley, AB; Diane (John Marshall) of Dauphin, MB; and Kevin of Toronto, ON. She leaves behind seven wonderful grandchildren: Nathan (Paige) of Lacombe, AB; Jordan (Ali) of Rimbey, AB; Jessica (Levi) of Eckville, AB; Meghan (Calan) of Sundre, AB; Logan, Joshua, and Matthew of Dauphin, MB. Iris was also a proud great-grandmother to Lincoln, Solomon, Nora, Sierra, Olivia, and Wyatt.
Iris also leaves behind her sisters-in-law Alice Geiger of Calgary, AB and Ruth Taylor of Yorkton, SK, as well as brother-in-law Irwin (Esther) Aichele of Calgary, AB., many nieces, and nephews, as well as cherished friends.
Iris was predeceased by her first husband, Walter Aichele; second husband, Helmut Aichele; parents Archie and Violet Taylor; brother Clifton Taylor; sister Audrey Bridgewater and brother-in-law Raymond; father-in-law William Aichele and mother-in-law Huldina Aichele; as well as Walter's and Helmut's siblings Alfred Aichele (Emma), Selma Protsko (Nick), Ed Aichele (Dorothy), Alvin Aichele (June), Lorraine Geiger (Harland), brother-in-law Cecil Geiger, and sister-in-law Joyce Aichele.
Many thanks to Dr. Mathison, all the nurses, aids, and support staff who cared for mom with kindness and dignity throughout her time as a resident and particularly in her final days. You held a special place in mom's heart, and we are comforted by the kind words you shared.
The Funeral Service was held Tuesday, July 11, 2023 from Yorkton Memorial Gardens Family Centre with Pastor Steve Pearson of Grace Baptist Church, Dauphin, MB and Pastor Rick Gibson officiating. Sharon Airriess read the scripture. Hymns were 'In the Garden' and 'Blessed Assurance'. Diane Marshall and Kevin Aichele sang a duet 'He Hideth My Soul'. Kevin also sang a solo of 'Old Rugged Cross' and gave a tribute and words of remembrance. Interment followed in the Garden of St. Matthew in Yorkton Memorial Gardens with Logan Marshall, Joshua Marshall, Matthew Marshall, John Marshall, Don Taylor, and Allen Miller serving as casket bearers. Memorial donations in Iris's memory may be made to the Dauphin Personal Care Home (625 3 St SW, Dauphin, MB R7N 1R7) or the CNIB Foundation (1929 Bayview Ave Toronto, ON M4G 3E8) as gifts of remembrance. Memorial donations may be made to the Dauphin Personal Care Home or CNIB Foundation as gifts of remembrance. Condolences may be shared at baileysfuneralhome.com.
To send flowers to the family or plant a tree in memory of Iris Aichele, please visit Tribute Store
Funeral
1:00 pm
Tuesday, July 11, 2023
Yorkton Memorial Gardens Family Centre
Highway #10 E.
Yorkton, Saskatchewan, Canada
306-783-4772
Funeral Service
Interment
Yorkton Memorial Gardens
Highway #10 East
YORKTON, Saskatchewan, Canada
306-783-4772


Share Your Memory of
Iris