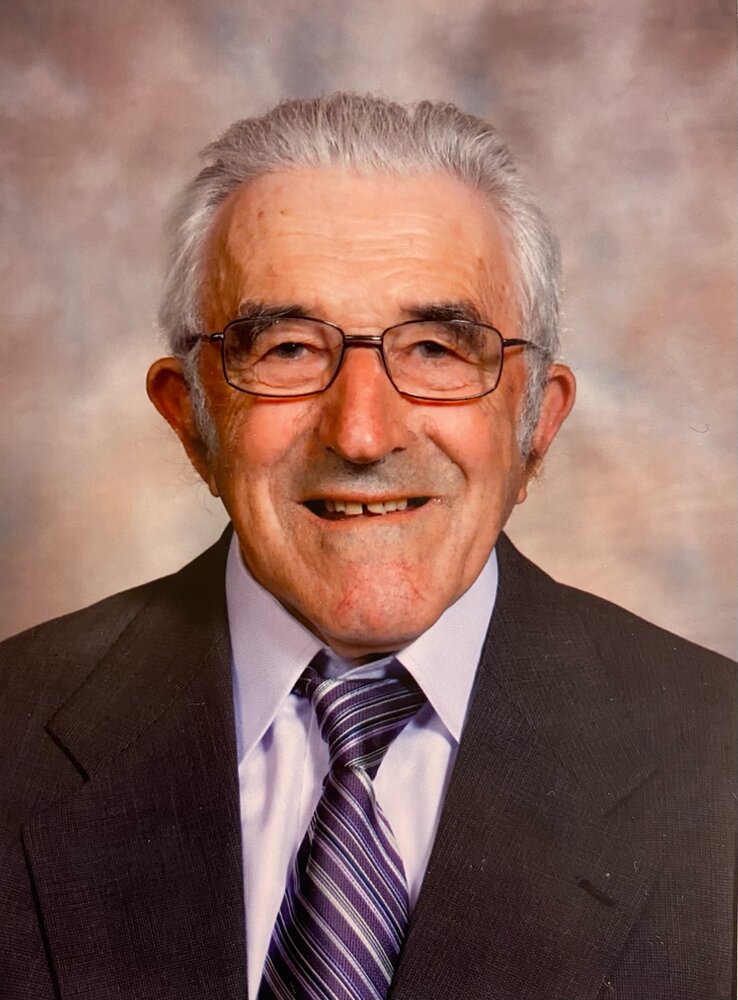 Obituary of William Oleynik
The family of William "Bill" Oleynik, beloved husband of Mary, sadly announce his passing on Friday, July 14, 2023. He was 96 years of age.
Prayers will be held on Monday, July 17th at 7:00pm from St. Mary's Ukrainian Catholic Church. The recitation of the Rosary by the UCB will begin at 6:30pm.
Liturgy will be held on Tuesday, July 18th at 10:00am also from St. Mary's Ukrainian Catholic Church.
The interment will follow in the Yorkton City Cemetery.
Memorial donations may be made to St. Mary's Church Building Fund as gifts of remembrance.
Arrangements have been entrusted to Bailey's Funeral Home, Yorkton.
William "Bill" Oleynik was born on November 2, 1926 in Korelyski, Ukraine to Michael and Katherine (Bordun) Oleynik. Together with his mother, they left Ukraine and they joined his father Michael, already in Canada, in May of 1930. They settled in the Barvas District, east of Yorkton.
Growing up, Bill attended Barvas School. As a young boy, he worked alongside his parents on the farm which instilled in him a lifelong love for farming. He was happy being with nature. He loved gardening, his fruit trees, and flowers, especially his beloved sunflowers. His interest in farming never faded and he was in awe of the changes he had seen in his lifetime. One of his happiest moments in farming was progressing from horses to acquiring their first tractor. He believed in hard work and passed on that work ethic to his family.
Bill married the love of his life Mary Andronowich on September 29, 1957. Their marriage was the ultimate example of love and respect throughout their 65 years together. Bill and Mary worked together as an amazing team throughout their life, creating a happy home to raise their four children. Bill's family was very dear to his heart. His face lit up with the biggest smile every time he would get a visit from his children, grandchildren, and great-grandchildren.
All his life Bill had a strong faith in God. He was a faithful member of St. Mary's Ukrainian Catholic Church, and a member of the Ukrainian Catholic Brotherhood.
Bill would drop everything for a chance to visit with friends. He always made time for others. He was warm and welcoming and always made sure that guests were well fed before they would leave.
Bill was humble and kind. His gentle manner made it so easy to be with him. The grandchildren have the fondest memories of Dido's storytelling of the old times, especially as he would do it with the biggest grin.
Following a very brief illness Bill entered eternal rest peacefully on Friday, July 14, 2023 at the Yorkton Regional Health Centre at the age of 96.
Bill was predeceased by his parents, Michael and Katherine.
Bill leaves to cherish his memory, his wife Mary: children John (Mabel) Oleynik and their family Melissa (Phil) Ava, Liam, Logan; Ryan (Justina) Saige, Braxton; Tyson; Anne (Don) Anderson and their family Donald (Trista) Natalie,Cruise; Christopher (Karlee); Sarah (Tim): Mike (Lorrielynn) and their family Shanda; Zachary (Aden): William (Iryna) and their family Diana (Sean); Christina; Markiyan and many friends and relatives.
Bill was loved by many and will be deeply missed.
To send flowers to the family or plant a tree in memory of William Oleynik, please visit Tribute Store
Prayers
7:00 pm
Monday, July 17, 2023
St. Mary's Ukrainian Catholic Church
155 Catherine St
Yorkton, Saskatchewan, Canada
Liturgy
10:00 am
Tuesday, July 18, 2023
St. Mary's Ukrainian Catholic Church
155 Catherine St
Yorkton, Saskatchewan, Canada


Share Your Memory of
William