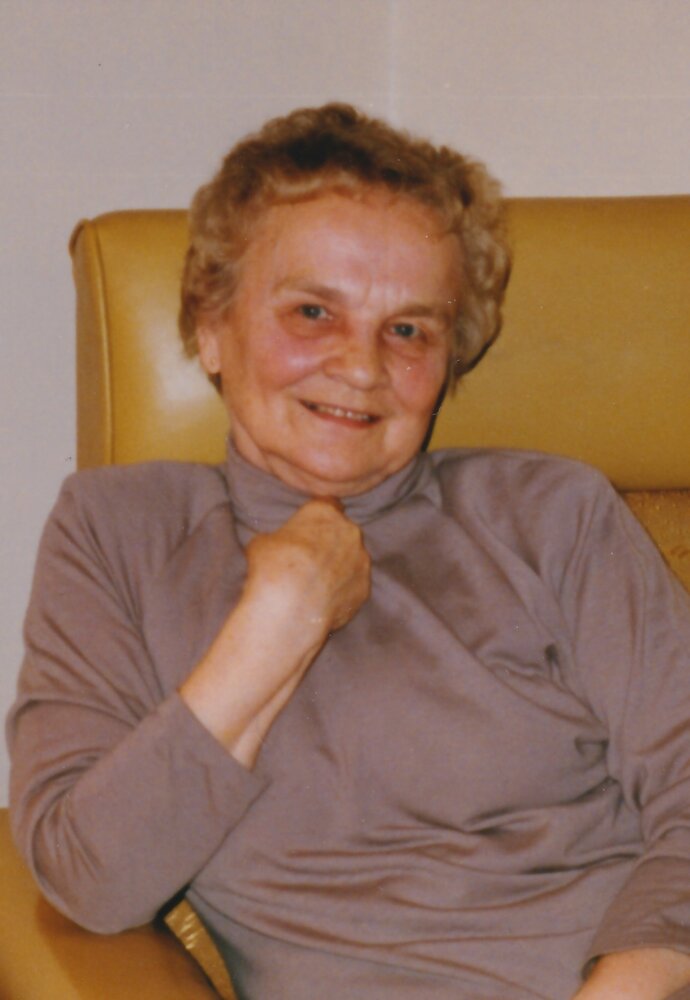 Obituary of Margaret Doroshenko
The family of Margaret Doroshenko of Toronto, formerly of the Buchanan district, sadly announce her passing on August 2, 2023 at the O'Neill Centre, Toronto. She was 105 years of age.
A Graveside Service will be held on Tuesday, August 8 at 9:00 a.m. from the Yorkton City Cemetery with Father Basil Malowany of St. Mary's Ukrainian Catholic Church officiating.
Margaret Doroshenko was born in the Buchanan District to Dmetro and Donna (nee Dutchak) Doroshenko. Margaret was the second oldest of seven children and at a very young age had to take on many adult jobs on the mixed farm near Buchanan. At 9 years old, Margaret had to bake all the bread for the family. Even though Margaret had no cookbook, she learned to make a jelly roll! Margaret had to prepare and plant a large vegetable garden including lots of potatoes, beets, and carrots, as well as earlier growing ones such as radishes, green onions, and lettuce. Margaret had to milk the eight cows the family owned, she would then use a separator to produce cream, some of which was sold, and skim milk, which was used to feed growing pigs. Margaret had to feed and water the pigs, calves, sheep, and horses. Margaret had to regularly gather eggs and arrange to sell some of them. Margaret had to "stook" the wheat which was very heavy to lift and stack nicely so that it could be used by the threshing machine.
Margaret cared greatly for her family. She would wash wool from the sheep, dry it, then with a spinning wheel produced wool thread to make wool socks and wool gloves for the family as winters were very cold and long. Margaret helped finance her younger brother Leonard's high school education and her younger sister Vicky's education while working at Honeywell.
Margaret and her sister Mary had a chance to move from the farm to Toronto in the early 1950s. Soon Margaret found house work in Toronto. One day, Margaret saw an ad by Honeywell, applied for a position, and was quickly hired on. Margaret was an excellent and loyal employee and did sophisticated work creating controls at Honeywell under the direction of a brilliant Japanese engineer. Margaret's skills were greatly appreciated, the President of Honeywell came to Margaret one day and shook her hand. Margaret retired at the age 65. Two months later Honeywell closed its Toronto location. After she retired, Margaret worked in home care nursing for ten years.
A room finally became available at the O'Neill Centre Long Term Care Home and Margaret was very well looked after at this wonderful facility for five years. She just had her 105th birthday several weeks ago.
Margaret was predeceased by her parents; her sisters Vicky and Mary; and her brothers John, Mike, Len, and Bob.
Margaret is survived by her cousins and friends.
To send flowers to the family or plant a tree in memory of Margaret Doroshenko, please visit Tribute Store
Graveside Service
9:00 am
Tuesday, August 8, 2023
Yorkton City Cemetery
King Street
Yorkton, Saskatchewan, Canada


Share Your Memory of
Margaret