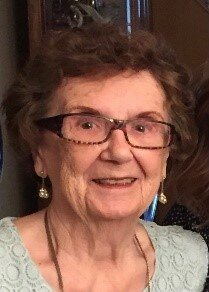 Obituary of Raina (Ruth) Slegel
It is with the utmost sadness that we announce the passing of our dear mother, Raina "Ruth" Slegel, who passed away peacefully on August 18th surrounded by family.
Mom was born in the Dnieper (north of Rhein, SK) district on June 5, 1930, the second of six children to Augustine and Katherine (Kyba) Yaholnitsky. She grew up on the family farm – something she spoke about with great affection. While the family were not materially wealthy, there was never a shortage of food, love, or happiness. The family raised livestock and huge gardens, allowing them to be self-reliant through tough times such as the dirty 1930s and war time 1940s.
In the winter, travel to church was in a horse drawn closed-in sled. The sled had a heater, making for a comfortable ride, but it was unstable, and even rolled over on occasion. During summers in her teenage years, Mom enjoyed riding the horse to visit her grandmother who resided on the Kyba homestead near Mazeppa Church. It was her upbringing that prepared her for her life's journey.
Mom completed school at Cedric school, a rural school. Like many young girls during the 1940s, she helped on the farm, and not provided the opportunity for higher learning. However, she was able to gain employment at the Canora Union Hospital as a nurse's aide. She went on to work at the Rosthern Union Hospital in the early 1950s, and she created many lasting friendships at each stop.
It was at this time Mom began dating her first husband, Michael Kotelko, of Carpenter, SK. They married in 1954 and lived on the family farm which Michael worked with his brothers. In 1956, she gave birth to a daughter, Daria, who passed away one week after birth, due to health complications. In 1958, their second daughter, Karen, was born. One year later, in the spring of 1959, Michael succumbed to cancer at the age of 33. This was a very challenging time for a young woman of her time, widowed at the age of 28.
Following her husband's death, and with family support, Mom and Karen moved to Canora where she returned to work at the Canora Union Hospital. It was here that she eventually met Carl Slegel, originally of Hyas, SK. They married in 1960 and the family expanded to include Carla, and then Donnalee. The home they made was one filled with joy, and the laughter of their three girls.
Mom was a dedicated stay-at-home mom to her daughters. She would often visit fabric shops, reviewing the catalogues to have the three girls' outfits sewn locally for special occasions or everyday wear. Mom relied on her skills as a seamstress, and then eventually "outsourced" the work to others in the community.
Like so many moms of her time, cooking, baking, and gardening were among Mom's top talents. No one could match her culinary skills. Her varenyky and cabbage rolls were crafted with a precision that will never be equaled. Whenever company came to visit, she had a delicious spread of cooked dishes ready. Ukrainian Christmas was orchestrated with meticulous planning, ensuring each dish was prepared perfectly, and served at the correct time.
Mom enjoyed helping family and friends by baking treats for all kinds of events. From reunions to church events, to her own daughters' weddings, no event was too big or too small. Even with over 200 people attending each of the three daughters' weddings, she baked enough dainties for the reception and the day after. Thank goodness for three deep freezers.
Gardening was another love of Mom's. Mom and Dad's house on Bradbrooke Drive had a beautiful garden, and she could be found in there at all hours caring for her fruits and vegetables. Harvests were carefully picked, pickled or frozen for the winter months. Her family was fortunate to inherit some of her immense knowledge of baking, cooking, and preserving, and look forward to passing down the knowledge to the next generation.
Mom loved her Orthodox faith, and she and Dad enjoyed attending church services in Yorkton. She was also a member of the Ukrainian Women's Association of Canada (Olena Pchilka Branch) for many years, prior to moving to Saskatoon. Mom and Dad enjoyed not only attending church services, but also looked forward to supporting other church activities, working in the hall for Bingos or catering for weddings. Mom's faith was important to her, and she continued to read and learn more about the Orthodox faith even into her later years. She often said how at church school growing up, they were required to memorize the Creed, and she did not require the written script to recite it, even as she grew older. Mom also loved listening to the many tapes of Ukrainian music she had accumulated of various choirs and artists. She could often be heard singing old Ukrainian songs to herself as she went about her daily tasks.
As the girls went on to complete high school, Mom returned to work at the Yorkton Regional Hospital on the maternity ward, first as a nurse's aid and then as a ward clerk. She loved working on the maternity ward with the newborns, and always had a knack for calming down a crying baby.
It was very important to Mom that each of her daughters receive a higher education, something she was not able to attain. She encouraged them to follow their dreams and pursue their passions vigorously. She was very proud of her daughters' accomplishments, and equally proud of her grandchildren and great grandchildren, each of them bringing her immense joy.
Mom and Dad loved to travel with their three daughters, taking long car trips throughout North America to visit Disneyland, Disney World, and down to Iowa to visit close relatives. Even as the kids grew up and left home, they continued to travel, returning to Iowa and Wisconsin to visit the Hawley/Slegel sides of the family, taking cruises to Alaska, Panama Canal and long winter trips to Arizona and Texas.
In 2020, in the midst of the COVID 19 pandemic, Mom and Dad moved to Saskatoon to be closer to family. They resided at Preston Park II until Dad's passing in July of 2021. Mom then moved to Preston Special Care Home until her passing. She had primary progressive aphasia, a rare nervous system which affects the ability to communicate and is progressive. Her speech and language continued to regress slowly over the years and reached the point of no verbal communication. This was difficult to watch, especially when she loved to communicate and share her opinions on a variety of topics.
Mom was predeceased by her parents Augustine and Katherine (Kyba) Yaholnitsky, her first husband Michael Kotelko, daughter Daria (in infancy), husband Carl Slegel, brothers Modest, Myroslaw "Russell" and Yaroslaw "Gerald", and sister Nadia Sochaski (Eugene).
She is survived by children, Dobrodijka Karen (Very Rev Fr Peter) Wasylenko, Carla Bosma, Donnalee (James) Weinmaster, grandchildren Thomas (Lindsay) and Matthew Weinmaster, Lara Wasylenko, Meghan (Dylan) Brown, Brittany and Lindsey Bosma, and three great granddaughters, Aidy, Riley and Mila. She is survived by her sister, Vera Webster, nieces, nephews and numerous cousins.
The family would like to thank the staff at Preston Special Care Home for their compassion and exceptional care during Mom's stay, and their genuine kindness and words of comfort during Mom's final hours.
Well done good and faithful servant. May her memory be eternal, and may she rest peacefully with the Saints. Memory Eternal, Vichnaya Pamyat!
The Funeral Service was held on Wednesday, August 23, 2023 from the Yorkton Memorial Gardens Family Centre with the Very Rev. Archpriest Peter Wasylenko officiating. Responses were given by Zennovia Duch. The cross bearer was Vera Webster. The honorary casket bearers were all of Ruth's cousins. The interment followed in the Garden of Gethsemane, Yorkton Memorial Gardens with Glen Kozak, Iris Kozak, James Weinmaster, Thomas Weinmaster, Carole Sarafincian and Orest Kyba serving as casket bearers.
Memorial donations may be made to Descent of the Holy Spirit Ukrainian Orthodox Church, Mazeppa; c/o Box 1524, Yorkton, Sask., S3N 3K3 or All Saints Ukrainian Orthodox Church, Box 8027, Saskatoon SK, S7K 4R7, in Raina's memory.
To send flowers to the family or plant a tree in memory of Raina Slegel, please visit Tribute Store
Funeral Service
1:00 pm
Wednesday, August 23, 2023
Yorkton Memorial Gardens Family Centre
Highway #10 E.
Yorkton, Saskatchewan, Canada
306-783-4772
Burial
Yorkton Memorial Gardens
Highway #10 East
YORKTON, Saskatchewan, Canada


Share Your Memory of
Raina