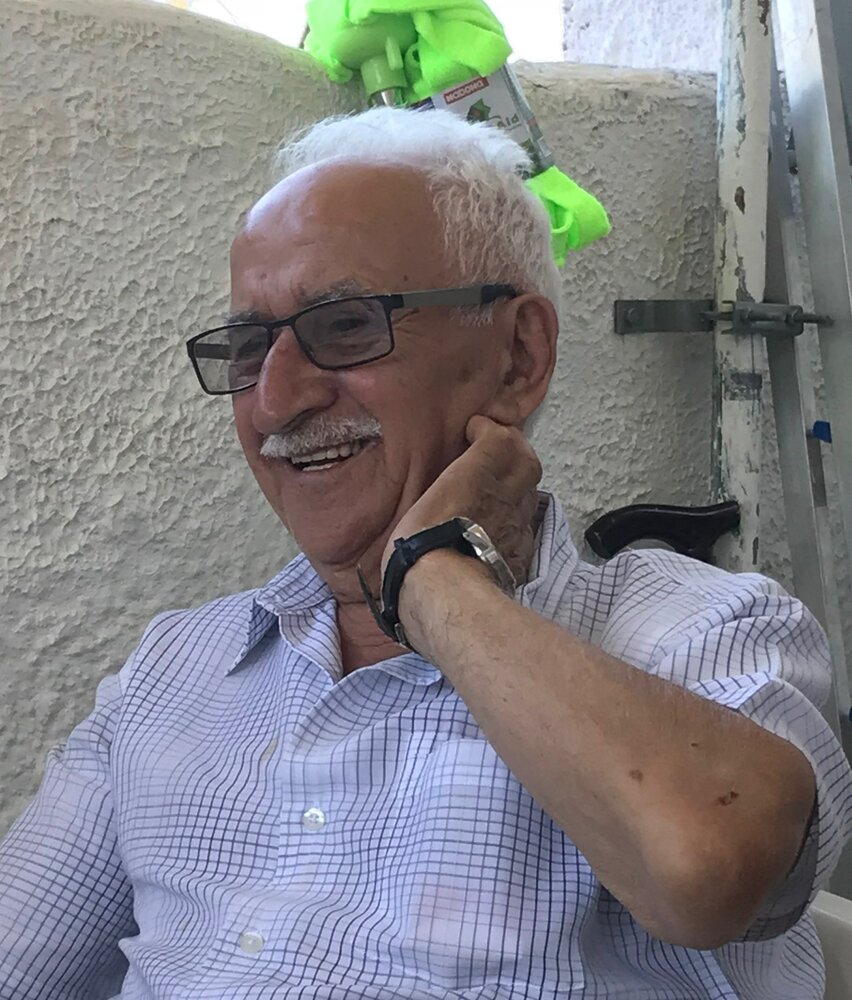 Obituary of Constantinos Stamatinos
The family of Gus Stamatinos of Yorkton, beloved husband of Mary, sadly announce his passing on August 23rd. He was 89 years of age.
Prayers for Gus Stamatinos will be held on Sunday, August 27th at 7:00 p.m. from the Yorkton Memorial Gardens Family Centre.
The Funeral Service will be held on Monday, August 28th at 10:00 a.m. from Saints Anargyroi Greek Orthodox Church in Yorkton.
CLICK HERE for the Live-Stream
The interment will follow in the Yorkton City Cemetery.
Memorial donations in memory of Gus Stamatinos may be made to the Heart and Stroke Foundation as gifts of remembrance.
Constantinos "Gus" Stamatinos was born February 17, 1934 in the village of Egrigoros on the island of Chios in Greece. He grew up working the land with his family and later became a Merchant Marine for a time – as so many did to survive and help their families. In 1955, he married the love of his life Maria (Mary) and would have celebrated 68 years of marriage on September 11th. They welcomed their sons George in 1956 and Cimos in 1962.
Gus immigrated to Canada in the hope of creating a better future for his young family in 1962. It was there that he joined his brother Louis, first in Kamsack and later Canora. A few years later, he opened his first restaurant in Churchbridge. He always commented on how great of a country Canada was and always appreciated what his new country provided. Even though like many newcomers he loved his home country, he never regretted the decision to make a better life for his family. In 1964, Maria and the boys joined Gus in Churchbridge and in 1969 they moved to Yorkton where they opened "The Mediterranean Restaurant" and later "The Park Plaza". Although they retired in the late 90's, Gus worked and helped his sons in their restaurant and made the pizza dough for them until he was well into his 80's.
A hard worker and dedicated husband, father, grandfather, and great-grandfather, he had much to be proud of in his life. He was truly a man of great faith and morals. Gus' family and faith always came first. He and Maria would sing and chant Orthodox hymns regularly on road trips and in their home. Family, friends, and casual acquaintances loved Gus for his caring, generous, and humble character. He was a great storyteller and was often asked to repeat his stories through the years. Those that knew him will remember his contagious laugh, sweet smile and welcoming nature.
Gus had some "trademarks" that made him who he was. One of those was wearing funny hats while working outside. He also tinkered in his yard and had great affection for the glue gun, duct tape, DWD (also known as WD40 to everyone else) and Windex. Watching him with his funny hat and using all those items to repair things are amongst some of our most cherished memories.
He spent many years fishing at Burgis Beach and loved to take his grandkids along with him. Other things that brought him joy included maintaining his yard and trips to Greece, however, his love for milk and honey was unmatched. This past year brought him extra joy, as he was able to meet his first great grandchild, Elena, who he called his "Princess".
His memory will be continue to be honoured by his loved ones who will practice what came so naturally to him - patience, unconditional love and support. His welcoming nature was not only felt by his family, but also by the many friends and acquaintances that passed through his home.
Ο Κωνσταντίνος Σταματίνος γεννήθηκε στις 17 Φεβρουαρίου 1934 στο χωριό Εγρηγορος της Χίου στην Ελλάδα. Μεγάλωσε δουλεύοντας τη γη με την οικογένειά του και αργότερα έγινε Εμπορικός Ναυτικός για ένα διάστημα όπως πολλοί έκαναν για να επιβιώσουν και να βοηθήσουν τις οικογένειές τους. Το 1955 παντρεύτηκε την αγάπη της ζωής του Μαρία (Μαίρη) και θα γιόρταζαν68 χρόνια γάμου στις 11 Σεπτεμβρίου. Υποδέχτηκαν τους γιους τους Γιώργο το 1956 και τον Σίμο το 1962. Ο Γκας μετανάστευσε στον Καναδά με την ελπίδα να δημιουργήσει ένα καλύτερο μέλλον για τη νεαρή οικογένειά του το 1962. Ήταν εκεί που ενώθηκε με τον αδελφό του Λούις, πρώτα στο Κάμσακ και αργότερα στην Κανόρα. Λίγα χρόνια αργότερα, άνοιξε το πρώτο του εστιατόριο στο Churchbridge. Πάντα σχολίαζε πόσο σπουδαία χώρα ήταν ο Καναδάς και πάντα εκτιμούσε αυτό που πρόσφερε η νέα του χώρα. Παρόλο που όπως πολλοί νεοφερμένοι αγαπούσε την πατρίδα του, ποτέ δεν μετάνιωσε για την απόφαση να κάνει μια καλύτερη ζωή για την οικογένειά του. Το 1964, η Μαρία και τα αγόρια ενώθηκαν με τον Γκας στο Churchbridge και το 1969 μετακόμισαν στο Yorkton όπου άνοιξαν το "The Mediterranean Restaurant" και αργότερα το "The Park Plaza". Αν και συνταξιοδοτήθηκαν στα τέλη της δεκαετίας του '90, ο Γκας δούλευε και βοηθούσε τους γιους του στο εστιατόριό τους φτιαχνοντσζύμη για πίτσα μέχρι να κλείσει τα 80 του. Εργατικός και αφοσιωμένος σύζυγος, πατέρας, παππούς και προπάππους, είχε πολλά να είναι περήφανος στη ζωή του. Ήταν πραγματικά ένας άνθρωπος με μεγάλη πίστη και ήθος. Η οικογένεια και η πίστη του Γκας ήταν πάντα πρώτα. Αυτός και η Μαρία τραγουδούσαν και έψαλλαν ορθόδοξους ύμνους τακτικά σε οδικές εκδρομές και στο σπίτι τους. Η οικογένεια, οι φίλοι και οι περιστασιακοί γνωστοί αγαπούσαν τον Γκας για τον περιποιητικό, γενναιόδωρο και ταπεινό χαρακτήρα του. Ήταν σπουδαίος αφηγητής και συχνά του ζητούσαν να επαναλάβει τις ιστορίες του με τα χρόνια. Όσοι τον γνώρισαν θα θυμούνται το μεταδοτικό του γέλιο, το γλυκό χαμόγελο και τη φιλόξενη φύση του. Ο Γκας είχε κάποια «εμπορικά σήματα» που τον έκαναν αυτό που ήταν. Ένα από αυτά φορούσε αστεία καπέλα ενώ εργάζεστε έξω. Τραβούσε και στην αυλή του και είχε μεγάλη στοργή για το πιστόλι κόλλας, την κολλητική ταινία, το DWD (γνωστό και ως WD40 σε όλους τους άλλους) και Windex. Παρακολουθώντας τον με το αστείο καπέλο του και χρησιμοποιώντας όλα αυτά τα αντικείμενα για να επισκευάσει πράγματα είναι από μερικές από τις πιο αγαπημένες μας αναμνήσεις. Πέρασε πολλά χρόνια ψαρεύοντας στην παραλία Burgis και του άρεσε να παίρνει μαζί του και τα εγγόνια του. Άλλα πράγματα που του έφεραν χαρά ήταν η συντήρηση της αυλής του και τα ταξίδια στην Ελλάδα, ωστόσο η αγάπη του για το γάλα και το μέλι ήταν απαράμιλλη. Αυτή η χρονιά που πέρασε του έφερε επιπλέον χαρά, καθώς μπόρεσε να γνωρίσει το πρώτο του δισέγγονο, την Έλενα, την οποία αποκαλούσε την «Πριγκίπισσά» του. Η μνήμη του θα συνεχίσει να τιμάται από τους αγαπημένους του που θα ασκήσουν αυτό που του ήρθε τόσο φυσικά- υπομονή, άνευ όρων αγάπη και υποστήριξη. Η φιλόξενη φύση του δεν έγινε αισθητή μόνο από την οικογένειά του, αλλά και από τους πολλούς φίλους και γνωστούς που πέρασαν από το σπίτι του. Ο Γκας έχει προηγηθεί από τους γονείς του Γιώργο και Ευαγγελία Σταματίνο. αδελφός Λούις (Έβελιν) αδερφη Μαρκελλα? πεθερά (Ευαγγελία); πεθερός (Σίμος): κουνιάδος (Γρηγόριος και Ηλίας)· μεγάλος ανιψιός (Λάμπρυ). Φεύγει για να θρηνήσει τον θάνατό του και να τιμήσει τη μνήμη του: την αγαπημένη του σύζυγο Μαρία γιοι George (Irene) και Cimos (Linda): εγγόνια Ria, Barb (Jason), Μαρία (Lee) Κώστα (Χίλαρι), Ρένα (Ντέιβιντ) και Τάσο. δισέγγονη Έλενα? όσο και ο άνθρωπος αδερφός και κουνιάδα, ανιψιοί και ανίψια.


Gus is predeceased by his parents George and Evangelia Stamatinos; brother Louis (Evelyn); sister Markella; mother in law (Evangelia); father in law (Simos); brother in laws (Gregory and Elias); great nephew (Lambry).
He leaves to mourn his passing and cherish his memory: his loving wife Maria, sons George (Irene) and Cimos (Linda); grandchildren Ria, Barb (Jason), Maria (Lee), Kosta (Hillary), Rena (David), and Tasso; great granddaughter Elena; as well as many brother and sister in laws, nephews and nieces.
To send flowers to the family or plant a tree in memory of Constantinos Stamatinos, please visit Tribute Store
Prayers
7:00 pm
Sunday, August 27, 2023
Yorkton Memorial Gardens Family Centre
Highway #10 E.
Yorkton, Saskatchewan, Canada
306-783-4772
Funeral Service
10:00 am
Monday, August 28, 2023
Saints Anargyroi Greek Orthodox Church
160 Betts Ave
Yorkton, Saskatchewan, Canada
Interment
Yorkton City Cemetery
King Street
Yorkton, Saskatchewan, Canada


Share Your Memory of
Constantinos