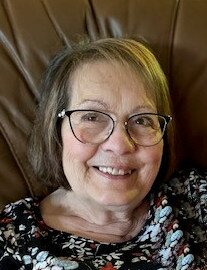 Obituary of Donna Schofield
The family of Donna Schofield of Yorkton, widow of Winslow Schofield sadly announce her passing on Wednesday, August 23, 2023. Donna was 76 years of age.
The Funeral Service will be held on Friday, September 1 at 1:00p.m. from the Yorkton Memorial Gardens Family Centre.
Click Here for Live Stream
The interment will follow in the Garden of Gethsemane, Yorkton Memorial Gardens.
Memorials in memory of Donna may be made to the Cancer Foundation of Saskatchewan or the Cardiac Care Unit of the Regina General Hospital, c/o The Hospitals of Regina Foundation.
Donna was born at Oak River, Manitoba on January 24, 1947 to Clarence and Jean Mackie. She and her brother Jack grew up and went to school in the Red Lake area where Donna met her lifelong friend Diane. Donna married young and enjoyed being a home maker and raising her two daughters Lisa and Connie. She made several moves before settling in Edmonton to raise her children and where she met the love of her life Winslow Schofield. Donna and Win soon made their home in Red Deer where Donna worked as a secretary but continued to devote her energy to her family and the great relationships with her friends. She loved cooking and had a passion and a knack for finding amazing recipes. A family dinner rarely passed without a new dish and there always seemed to be twice the food that those of us around the table could possibly eat. She collected these recipes with the intent of making a cookbook and these scraps of paper, some written in her own hand, will be treasured for generations to come. After Win's passing Donna focused even more on the wonderful friendships she had cultivated in Red Deer, taking cruises, travelling, attending Dinner Theater, get togethers for fun and games as well as shopping and many happy meals out with friends. Upon moving to Yorkton Donna found a second family in this community of wonderful people. Here she cultivated amazing relationships and took great joy in sharing meals, playing games or simply enjoying a cup of coffee with friends. Donna's priority remained family and she enjoyed making memories with her grandchildren and great grandchildren that will follow them through their lives.
Donna passed away at the Regina General Hospital on Wednesday, August 23rd 2023. She was 76 years of age.
Donna was predeceased by the love of her life and husband Win and their grandson Jordan. She is survived by their children: Debbie (Henry) Lewis; Patty (Ace) Segura; Lisa (Dwayne) Kruger; Connie (John) Chileen; Grandchildren: Wendy, Crystal, Kylie (Zachary), Jullien (Antonella), Tessica (Logan), Marisa (Chad), Paxtyn, Zane (Zoey), Devon, Trista, Jenna and her many great grandchildren.
There is always, always, always something to be thankful for.
To send flowers to the family or plant a tree in memory of Donna Schofield, please visit Tribute Store
Funeral Service
1:00 pm
Friday, September 1, 2023
Yorkton Memorial Gardens Family Centre
Highway #10 E.
Yorkton, Saskatchewan, Canada
306-783-4772
Funeral Service
Interment
2:00 pm
Friday, September 1, 2023
Yorkton Memorial Gardens
Highway #10 East
YORKTON, Saskatchewan, Canada
306-783-4772
Interment


Share Your Memory of
Donna