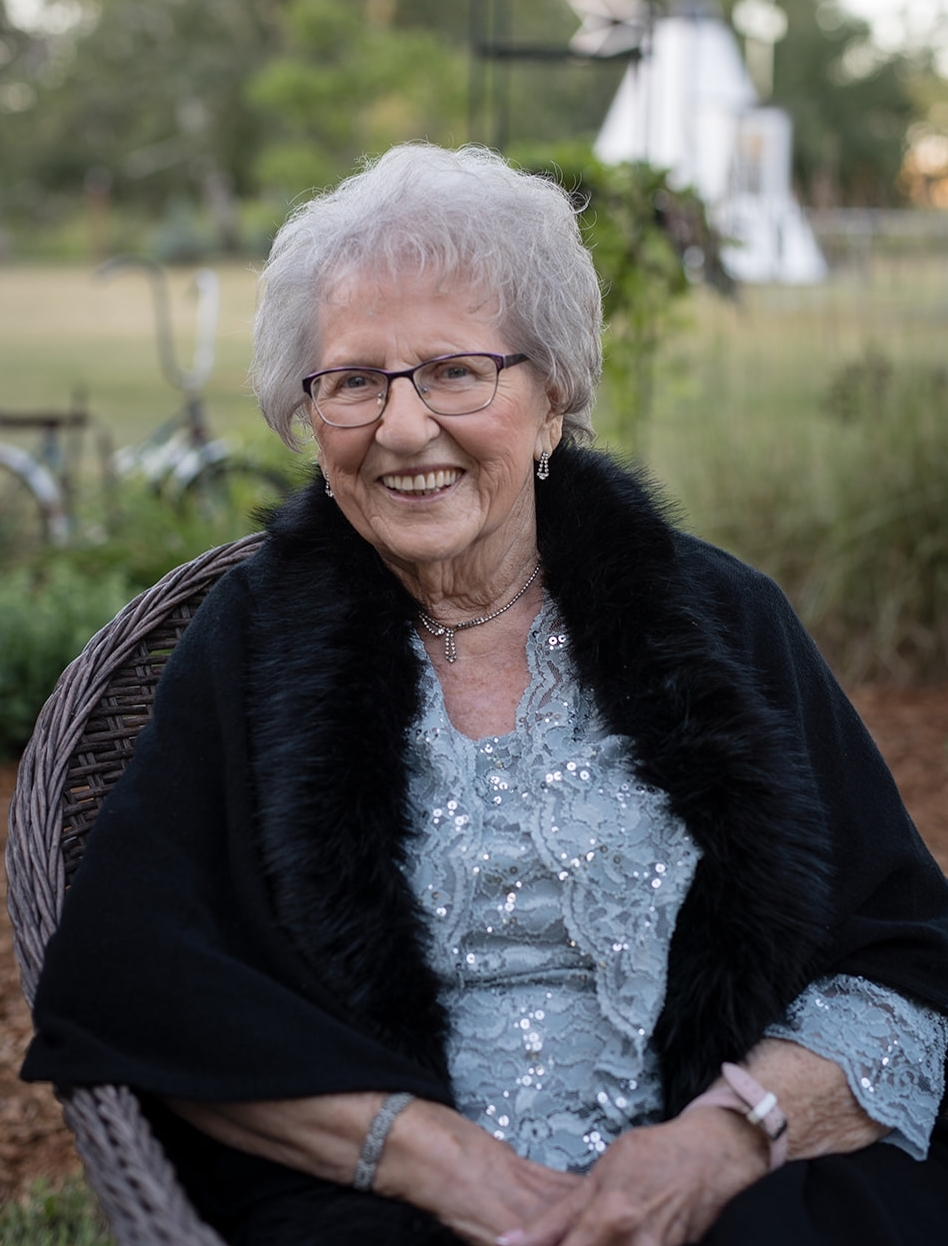 Obituary of Betty Crow
The family of Elizabeth "Betty" Crow of Melville, widow of Leon Crow, sadly announce her passing on Thursday, August 24, 2023. Betty was 94 years of age.
The Funeral Service will be held on Saturday, September 2 at 10:00a.m. from St. Henry's Roman Catholic Church with Father Andrew Sowa, OMI presiding.
The interment will follow in St. Henry's Parish Cemetery
Memorials in memory of Betty may be made to Mass Offerings, Church Memorial Fund or Heart & Stroke Foundation as gifts of remembrance.
Elizabeth (Betty) (Lemaire) Crow was born April 25, 1929 to Victor and Rose (Rusnak) Lemaire. She attended St. Henry's school and later became an x-ray technician at St. Peter's Hospital in Melville. While x-raying a young handsome man she met the love of her life, Leon Crow, a farmer from the Good Hope area. They were married October 11, 1950 and had four children: Leona, the twins - Denise and Delbert, and Doug.
Family, Faith, Friends, and Farming were all important to Betty.
Betty often hosted family celebrations. Sunday dinners with her famous fried chicken was generally in the offering. Family and friends enjoyed holiday meals with all the fixins. Betty would do most anything for her children and grandchildren from baking their favourite treats to sewing their dance costumes, first day of school outfits and wedding ensembles.
Betty's faith was always in the forefront. She was a lifetime member of St. Henry's Parish where she received all her sacraments. After returning to Melville, Betty became more involved in the church. She was an active CWL member for over 60 years. Many of the CWL ladies can attest to her baking skills and years of "running the bake table". She volunteered as a Eucharist Minister for St. Peter's Hospital and St. Paul's Lutheran Home, and she was diligent in taking communion to the shut-ins.
Although Betty was raised a city girl, she was a natural on the farm. Along with Leon they had a beautiful, manicured yard. She raised chickens, milked cows, did field work with the Allis Chalmers tractor, and always had a huge garden, not to mention the fruit orchard and all the strawberries and raspberries that she grew. Her cooking and baking skills were second to none, each special treat made from scratch - a true pioneer woman. One of mom's favourite things to do was to bring coffee and supper to the field, especially at harvest.
Betty was the Queen of Hospitality welcoming everyone with a meal or at least coffee and goodies. Betty had many friends, each of whom she treated with special care. She generously shared her homemade popcorn balls, cookies, fresh buns, and chocolate rolls.
Betty had an adventurous nature and even later in life she'd be willing to try most anything, from dogsledding to tubing on the lake and swinging from a tire in a tree. She was willing to laugh at herself and to not take herself too seriously. Betty and Leon worked hard and played hard! They enjoyed community dances, curling, and marble games.
When Betty and Leon moved to Melville in 1976, the daily tradition of coffee at 10 a.m. got moved to 9 a.m. with a new opportunity to meet more people. These people became long-time friends. The morning coffee ritual continued until mom was no longer physically able to attend.
Betty always had a soft spot for people in need, from helping Leon when he was ill to assisting other close family members and friends. She would often put their needs ahead of her own.
Betty moved to St. Paul's Lutheran Home in December 2020. There she was known for her kind and generous nature with a contagious smile and heartfelt "thank-you".
After Leon passed away, Betty met another soul mate, Len Varga. They enjoyed each other's company and shared many happy memories together. They both looked forward to Friday date nights. The family is grateful for Len, for the joy and happiness they shared.
Betty was a beautiful, resilient, independent, hardworking, passionate, and confident woman. She made the world a better place, and she will be greatly missed.
Betty made her heavenly journey August 24, 2023. She is predeceased by her loving husband, Leon, son Delbert, parents Victor and Rose Lemaire, infant brother, sister Blanche and husband Joe Nagy, brother Lloyd and wife Dianne Lemaire, sister Rosemarie Lemaire, son-in-law Bill Bisch, and her in-laws, Albert and Ruth Crow; brothers and sisters-in-laws Les Crow, Ron and Ruth Crow, and Herb and Ruth Crow,
Betty leaves to mourn her very special friend, Len Varga; her children Leona Bisch; Denise (Kelly) Nelson; Doug (Danette) Crow; her grandchildren Judy (Cory) Kraushaar; Heidi (Adam Seaby) Bisch; Amy (Jordan) Bugg; Eric (Cameron Spikin) Nelson; Mitchell (Vanessa Lozecznik) Nelson; Andrea (Brad Muir) Nelson; Clarke Crow, great-grandchildren Janelle (Lance) Lewchuk; Tyler Kraushaar; Ryan (Carisa Wock) Kraushaar; Katelyn (Nathan) Dimler; Leon Lozecznik Nelson; Oliver Lozecznik Nelson, sister-in-law Marlyn Crow, and many nieces, nephews, family, and friends.
To send flowers to the family or plant a tree in memory of Betty Crow, please visit Tribute Store
Funeral Service
10:00 am
Saturday, September 2, 2023
St. Henry's Roman Catholic Church
729 Main St.
Melville, Saskatchewan, Canada
306-728-5702
Funeral Service
Interment
11:15 am
Saturday, September 2, 2023
St. Henry's Roman Catholic Cemetery
Highway #15
Melville, Saskatchewan, Canada
Interment


Share Your Memory of
Betty