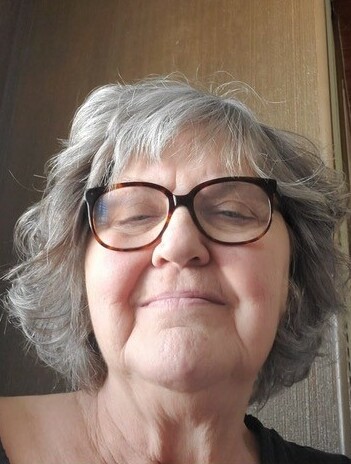 Obituary of Muriel Dmyterko
In the early morning of August 29th, 2023 Muriel Mary Dmyterko, 71, passed away at St. Peter's Hospital in Melville, SK. Muriel, along with her twin brother Mervin, were born on April 2nd, 1952 in Melville, SK to Joe and Mary Smuk. Joe and Mary eventually settled in the Jedburgh area. Muriel and Mervin were the second oldest of nine children, including three sets of twins. Muriel attended her elementary school years (Grade 1-8) at the Nanton School and went on to attend the Yorkton Regional High School.
Muriel was the first of the nine children to leave the family homestead to pursue training in hairdressing at the Marvel Beauty School in Saskatoon while raising her first born son, Tadeusz Keltie, in 1971. She completed her training and was awarded a Certificate of Journeyman Status in the Beauty Culture trade in 1972. She managed to accomplish this while raising her infant son, Tad, on her own and supporting both of them financially by working at the Bessborough Hotel.
Once Muriel completed her hairdressing course in Saskatoon, she moved back to Yorkton to be closer to home where she could have the support of her family. She took her first job at Darlene's Style House. She was also working as a waitress at this time and this is where she met her future husband.
Muriel met the love of her life, Victor Dmyterko, in Yorkton in 1972. Victor accepted the responsibility of helping to raise Tad and married Muriel on September 1st, 1973 at the St. Mary's Ukrainian Catholic Church in Yorkton, SK. After they married, Muriel and Victor had two children together, Darla Marie Dmyterko and Myles Victor Dmyterko. Victor adopted Tad and they raised all three children together.
Muriel was known to be extremely hard working and, at several points in her life, she worked more than one job at a time. She worked as a hairdresser for thirty years. For several of those years she worked in a salon that she and Victor built in their home, which allowed her to be more present for her family. When she was ready for a career change she gave up hairdressing completely and started working as a cook at the Painted Hand Casino for the next fifteen years.
Muriel will always be remembered for her cooking. She prepared many meals that brought the family together, especially during the holidays. These meals were truly a gift that she shared. She could always be counted on to answer questions on how to make one of her special recipes. It was the love that she put into each of the dishes that truly made them special.
Muriel enjoyed sharing all the little things in life with Victor; such as the flowers, the birds, and a good, hot cup of coffee in a cozy outdoor space with a comfortable chair. She loved animals, especially cats, and was very fond of her late cat Toot. She valued fairness in life and became strong because she had to be. She valued family, especially her grandchildren. She could often be heard saying an emphatic, "Love, love!" to each and every one of them. She kept a strong bond with her sisters Theresa, Darlene and Marlene, with whom she shared countless hours on video chat once COVID started. She had a great sense of humour. She will be greatly missed by many.
Family Who Went Before Muriel was predeceased by her father Joe Smuk, who died on November 1st, 1997, her mother Mary Smuk, who died on October 7th, 2002. She also was predeceased by her twin brother Mervin Smuk on January 20th, 2016 and her youngest brother Darcy Smuk on June 28th, 2023 and Donald McFadyen, May 9th, 2019.
Family She Left Behind Muriel is survived by her husband Victor Dmyterko and their three children, Tadeusz Keltie (Denise Keltie), Darla Marie Dmyterko and Myles Victor Dmyterko (Tamara Smith). She is also survived by six grandchildren: Macy Dmyterko, Rebecca Keltie, Tannon Keltie, Colton Keltie, Brett Lomenda, Mason Smith and Kinley Smith. Muriel is also survived by six siblings: Darlene (Ted) Chepil; Marlene McFadyen; Ken Smuk; Terry Smuk; Garry Smuk; Theresa (Wes) Heuchert.
The private family Graveside Service was held on Tuesday, September 5, 2023 from the Yorkton City Cemetery with Rev. Roland Legge officiating.
Thank you to everyone for your thoughts and prayers during this difficult time. In lieu of flowers, donations can be made to the Canadian Lung Association as gifts of remembrance.
To send flowers to the family or plant a tree in memory of Muriel Dmyterko, please visit Tribute Store
Services for Muriel Dmyterko
There are no events scheduled. You can still show your support by sending flowers directly to the family, or planting a memorial tree in memory of Muriel Dmyterko.
Visit the Tribute Store


Share Your Memory of
Muriel