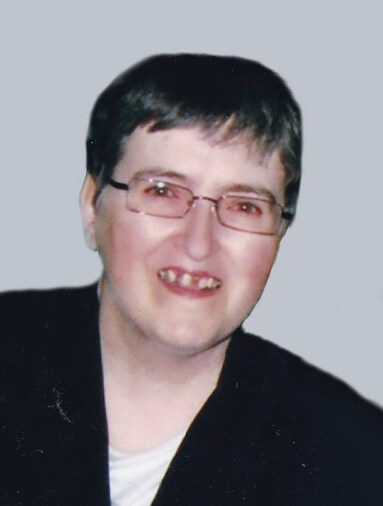 Obituary of Judy Elaine Sawchuk
In loving memory of Judy Sawchuk, who departed this world on September 4, 2023. Judy was born on June 16, 1957, to her loving parents, Nick and Rose Griff. She lived a life that was as distinctive as it was challenging, leaving behind a legacy that evokes both smiles and contemplation.
In 1992, Judy embarked on the journey of marriage, and it brought joy into her life.
She worked at various grocery stores in the Yorkton area. Judy continued employment until her health faced an unexpected decline after a stroke in 2001.
Amidst life's trials, Judy found solace in the simple pleasures. She had a deep affection for polka music and cherished the Saturday night gatherings where she could tap her feet to the lively tunes. Her devotion to Lassie was unwavering; she watched every episode with a smile on her face.
Judy's heart warmed at the sight of her nieces and nephew, enjoying their visits and the laughter they brought into her life.
Her fondness for reading the newspaper was well-known, and she preserved her favorite articles as cherished mementos. Judy was also a history enthusiast, well-versed in the RM history books, and she meticulously maintained her records with an organizational finesse that was truly remarkable.
Despite facing disabilities throughout her life, Judy never lost her appreciation for life's simple joys. She held six heartfelt wishes close to her heart: to have a stable place to call home, a reliable car, a fulfilling job, unending happiness, robust health, and the opportunity to travel.
Her culinary tastes were as individual as her interests, with a fondness for perogies, chicken, strawberry jam, and poppyseed rolls.
Judy's life was woven into the fabric of Balmoral Street for many years, and later she made Independent Manor her home.
She had a unique love for birthdays and always ensured that GX94 announced these special days. Judy's enthusiasm for GX94 contests was a reflection of her passion for life's simple pleasures.
Judy Sawchuk, will be remembered for her determination, her love for family, and her ability to find enjoyment amidst adversity. Her memory will forever be a reminder of the strength of the human spirit.
As she embarks on her final journey, may Judy find the peace she longed for, and may her wishes, unfulfilled in life, find fulfillment in the embrace of eternity.
Judy will be missed by her sister Linda Velichka, her nieces Sherisse Dawe, Julie Pond and Amy Velichka and her nephew Jase Velichka and their families.


Share Your Memory of
Judy