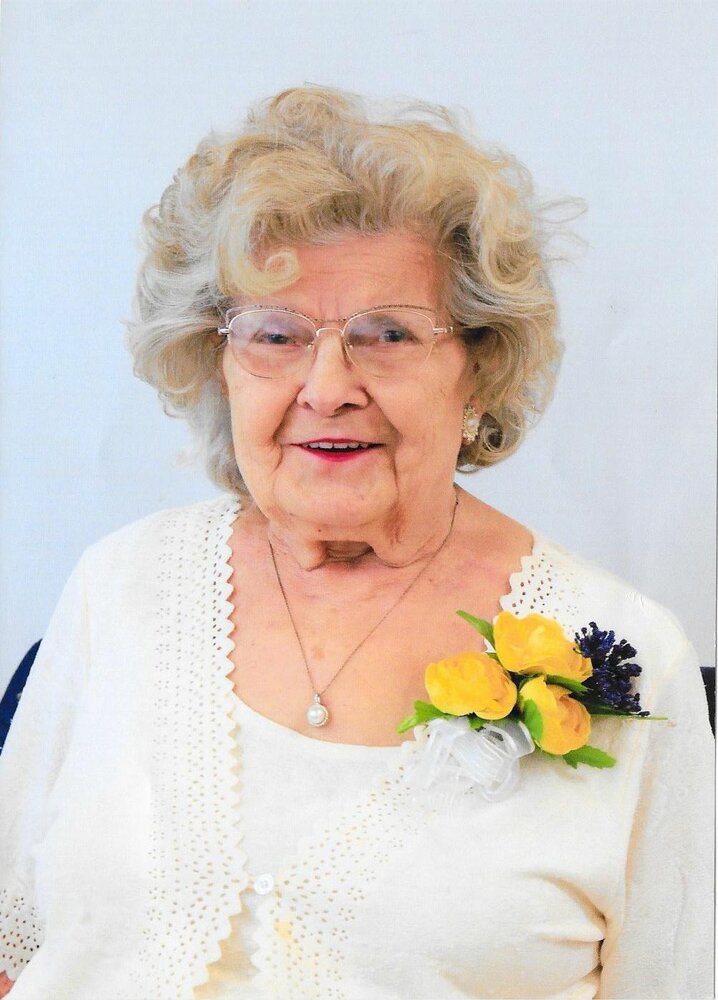 Obituary of Pearl Andrychuk
Pearl Andrychuk passed away on Saturday, September 23, 2023 at 93 years of age. Pearl was born on April 1, 1930 on the family farm near Hamton, Saskatchewan. She was the fourth child born to John and Anna (Oystryk) Klewchuk, who had six children. Pearl was raised on the farm, attending Oleskow School. Pearl, her parents and brothers Peter and Tyrone moved to Yorkton in 1947. That same year, Pearl met Nick Andrychuk who was working on the family farm. They married on October 24, 1948 and moved to Yorkton, where Nick worked briefly as a truck driver for Pachal's Beverages and Pearl worked as a sales clerk. Nick and Pearl moved to Flin Flon, Manitoba in 1951, where they owned and operated grocery stores, including Modern Food Centre from 1955 to 1974. While in Flin Flon, Pearl and Nick had three sons, Leonard Dale, Donald James John and Tyrone Peter. Pearl was an active member of the Lion Ls Club, St. George's Greek Orthodox Church and the Flin Flon Rifle Club, volunteering and holding executive positions in each. Many of Pearl's relatives also lived in Flin Flon and their years there saw them make many good friends and enjoy many good times with friends and family, often at their cottage on Big Island Lake, where they spent summers with their boys.
After selling the store in 1974, Pearl and Nick moved to Yorkton. For many summers, Nick and Pearl returned to their cottage at Big Island Lake near Flin Flon to visit friends and for a number of years they travelled to Texas for the winter. In the summer of 1998, Pearl and Nick celebrated their 50th wedding anniversary with a huge party organized and hosted by Pearl at their home in Yorkton, feeding about 100 people with food prepared by Pearl. In 2002, they travelled to Alaska. Nick passed away suddenly on May 30, 2004. Pearl then lived in Yorkton on her own, enjoying many friends and family, taking several ocean cruises and travelling to Ukraine, Hawaii and Portugal. In November, 2020, she moved to an independent living home in Regina. She missed her Yorkton friends but kept in close contact by phone and enjoyed frequent visits from her sons and grandchildren.
Pearl was predeceased by Nick, her husband of 56 years, her parents John and Anna, sister Mercine (Mike) Dyda and her brothers Jacob (Mary), Mike (Mary) and Peter (Darlene). She leaves to mourn her son Leonard and his wife Joni, with children Aaron, Jillian (Craig Buium), Meghan (Morgan Scott), Justin (Emily Young), Nicholas and Samantha, and great grandchildren Rachel, Reid, Alex, Auden and Karter; son Don and his wife Wanda, with children Jevon (Angela) and Carlene (Kevin) Anderson, and great grandchildren Veronica, Nikalina, Paige, Jake, Jaida, Whitney and Mason; and son Tyrone and his wife Corinne, with children Ariel (Rui) Du and Breann (Chad) Wiebe, and great grandchild Anna. Pearl is also survived by her brother Tyrone (Iris) Klewchuk, sister in law Darlene (Peter Klewchuk), brothers in law Peter Andrychuk, Danny (Emily) Andrychuk and Peter Holowatuik and sisters in law Verna (Mike) Andrychuk and Elsie (George) Andrychuk, and many nieces and nephews.
A wife, mother, grandmother, great grandmother and good friend to many. She will truly be missed and will always be in our hearts.
The Funeral Service was held on Saturday, September 30, 2023 from the Yorkton Memorial Gardens Family Centre with Crystal Bailey, certified celebrant officiating. The cross bearers were Breann Wiebe, Samantha Andrychuk, and Carlene Anderson. Len Andrychuk gave a tribute. Jillian Andrychuk and Aaron Andrychuk read scripture. The honorary casket bearer was Tyrone Klewchuk. The interment followed in the Garden of St. Matthew, Yorkton Memorial Gardens with Jevon Andrychuk, Rui Du, Nicholas Andrychuk, Justin Edralin, Craig Buium and Chad Wiebe serving as casket bearers.
Memorial donations may be made to the Heart & Stroke Foundation or Diabetes Canada as gifts of remembrance.
To send flowers to the family or plant a tree in memory of Pearl Andrychuk, please visit Tribute Store
Funeral Service
4:00 pm
Saturday, September 30, 2023
Yorkton Memorial Gardens Family Centre
Highway #10 E.
Yorkton, Saskatchewan, Canada
306-783-4772


Share Your Memory of
Pearl