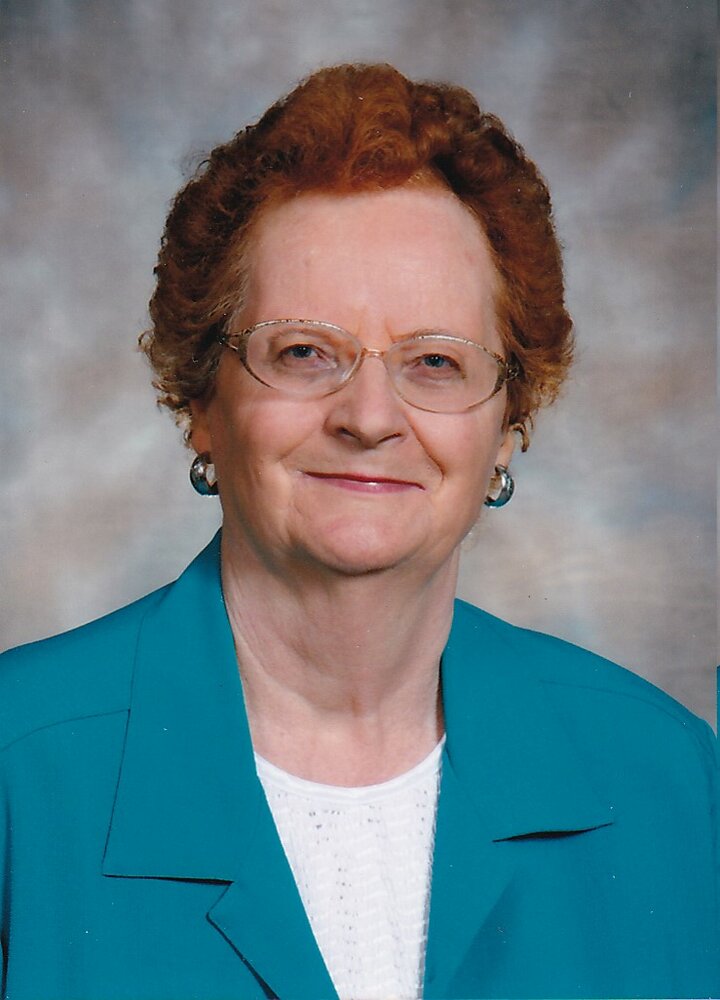 Obituary of Sylvia Ukrainetz
Sylvia Ukrainetz (nee Hrehorak) was born on Oct 11, 1939, to Michael and Mary (nee Dumanski) Hrehorak. Born in Sheho, SK on the family farm, she was the fourth of five children.
Sylvia attended school in Sheho and Foam Lake, SK. She attended post-secondary education at Riverview Hospital in Coquitlam, BC. She worked at Riverview Hospital, as well as City Hospital in Saskatoon, SK.
Sylvia was raised Ukrainian Orthodox and took classes to become Ukrainian Catholic, and she attended Church regularly. Singing in Church was her specialty; Sylvia's voice was a beautiful alto. Music was always an important part of her life; from dancing polkas at community halls and weddings to dancing with Walter in the living room while playing the "Saturday Night Get Together". She loved listening to classic 70's rock, country, folk, and Ukrainian Choirs.
On July 14, 1962, Sylvia married the love of her life, Walter Ukrainetz at Holy Trinity Ukrainian Catholic Church in Tuffnell, SK. They made their home in Willowbrook, SK until 1970 when they moved to Yorkton, SK. Sylvia and Walter were blessed with four children.
Sylvia was a Homemaker for her entire married career; she loved entertaining, gardening, canning, cooking, socializing with the coffee neighbour ladies weekly; she took evening adult classes at the Regional High School for sewing, and "Ladies Know Your Car". She loved volunteer serving at St. Mary's Cultural Centre, door-to-door Christmas caroling with her family and was happy to babysit her five grandchildren. Every year she cooked the 12-dish Christmas Eve supper, as well as preparing the Easter basket food for blessing for all of us to enjoy. She was especially proud of her perennial garden, which she enjoyed gathering snips of perennials from friends and family. Her handwriting was immaculate much like how she kept her home.
Sylvia was very proud of getting her driver's licence later in life. She developed macular degeneration, and when she could no longer drive because of failing vision, she then attended CNIB regularly.
Sylvia, Walter and family camped at many Regional, Provincial, and National Parks across Canada and the United States. One of her favourite memories was with a senior bus tour where she and Walter visited Ottawa, Montreal, and the Maritime Provinces. Another favourite memory of hers was travelling by car with her sister-in-law Blanche to Arizona. Highlights of the trip included visiting the Grand Canyon and Las Vegas.
Sylvia peacefully passed away at the Yorkton Regional Health Centre on Sept 27, 2023 at the age of 83 years, just shy of her 84th birthday.
Sylvia is predeceased by her parents Michael and Mary (nee Dumanski) Hrehorak; her husband Walter; her sister Joyce and brother-in-law Allan Spelay, her niece Cindy Spelay; her brother Ed, her sister Carol, her sister Ellen and brother-in-law Peter Pitura; and her nephew Kevin Spelay.
Sylvia is predeceased by Walter's parents' Karl and Gena Ukrainetz (nee Mischie) and stepfather Steve Honeywich; as well as brother-in-law Ed and sister-in-law Isabel; brother-in-law Stan and sister-in-law Harriette; brotherinlaw Walter Fedak; sisterinlaw Verna Choboter; and niece Patricia Ukrainetz.
Sylvia leaves to cherish her memory daughter Charmaine (Al) Mehling and their children Sara (Steve, Jocelyn and Noah), Ashley (Dakota), and Amber; daughter Colette (Ralph) Karapita and their children Nicole, Melissa (Michael and Mya), Michael, and Mitchell; son Robert; son Justin; sister-in-law Gloria Kowalchuk; sister-in-law Betty Fedak; sister-in-law Joan Ukrainetz, brother-in-law Victor (Carol); sister-in-law Yvette; brother-in-law Ivan Choboter; brother-in-law Hank (Laureen); sister-in-law Blanche White; brother-in-law Gerry (Henrietta); brother-in-law Tim; brother-in-law Larry (Betty) as well as numerous nieces and nephews.
Her family would like to thank all the staff at the Yorkton Regional Health Centre for the wonderful care and love they provided her in her final days.
To send flowers to the family or plant a tree in memory of Sylvia Ukrainetz, please visit Tribute Store
Prayers
7:00 pm
Tuesday, October 3, 2023
St. Mary's Ukrainian Catholic Church
155 Catherine St
Yorkton, Saskatchewan, Canada
Funeral Service
10:00 am
Wednesday, October 4, 2023
St. Mary's Ukrainian Catholic Church
155 Catherine St
Yorkton, Saskatchewan, Canada
Interment
Yorkton City Cemetery
King Street
Yorkton, Saskatchewan, Canada


Share Your Memory of
Sylvia