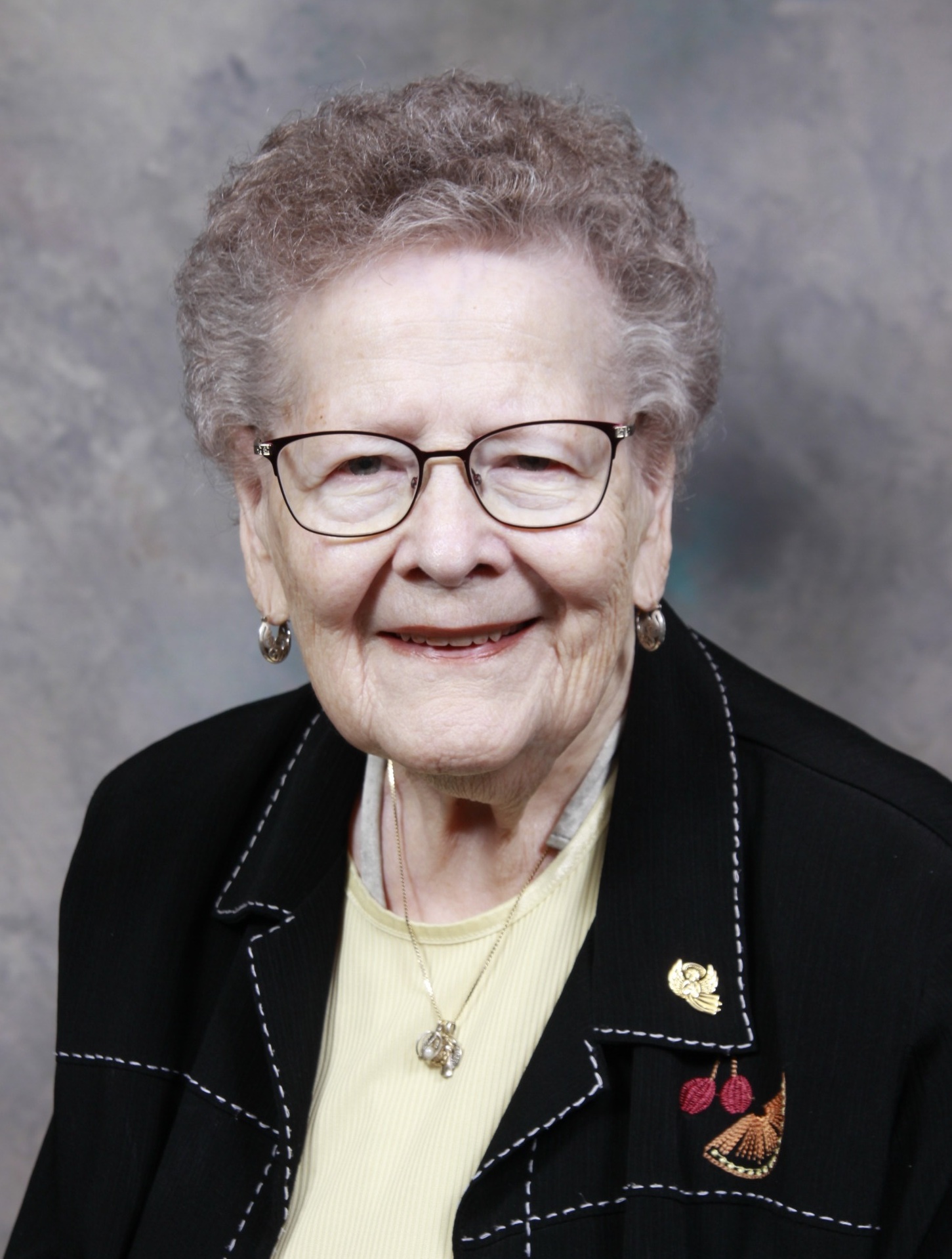 Obituary of Helen Norman
Norman, Helen Audrey (nee Sagan)
June 10, 1927-September 30, 2023
NORMAN - We are saddened to say goodbye to Helen Norman who passed away on Sept. 30, 2023 at Canora Gateway Lodge after a two-year battle with breast cancer. She lived a beautiful life filled with family and friends and touched the hearts and lives of many in her 96 years.
Helen was born near Melville on June 10, 1927 to Adam and Katherine Sagan. She spoke only Polish when she began her education at Fairland School near Melville. In 1939 her family which included younger brother Arthur moved to Lulu Island, B.C., now Richmond. There she attended Richmond High School and met her lifelong friend Ethel Roed. She and Ethel both loved to sing while Helen played the guitar, even performing on the local radio station. The family returned to Saskatchewan in 1944 to farm near Rokeby. Helen enjoyed working as a sales clerk selling shoes at Croll's Department Store until she married a handsome farmer and former RCAF pilot Alvin Rendall Norman on Dec. 15, 1948. Together they raised five children on the farm near Orcadia: Douglas, Audrey, Donald, Kenneth and Susan. Helen returned to clerking in 1970, first at Zeller's, then at the Yorkton Co-op in the housewares department which she loved. Helen was an amazing mother who supported her children in all of their interests, often becoming a volunteer such as a 4-H Homecraft Club leader in Springside. She was an avid participant in Orkney community organizations: The United Church Women Ladies Aid, the Community Club, and the Historical Society. Helen penned the Orcadia News in the Yorkton Enterprise. Helen's love of learning focused toward researching and documenting the history of the community of Orkney and the Genealogy of both Alvin's and her own ancestry. She was instrumental in the work done to put together the book entitled ORKNEY STONES 1882-1989. She was one of the founding members of the Yorkton Genealogical Society. Helen was very proud to have been recognized for her years of volunteering with the Yorkton Exhibition Ladies Auxiliary, having been inducted into the Yorkton Exhibition Senate after 50 years of involvement beginning in 1949. She was honoured at the Exhibition Senior's Tea on July 3, 2023 after 74 years of service. Equally important to learning about and documenting the past was to preserve it. Helen contributed to this by collecting anything 'old', attending as many garage sales as possible! She loved cookbooks, China; especially cups and saucers, figurines- especially angels, silverware….
Helen was talented at oil painting, most notable being the Orkney Stone School and Church. The walls of many family homes are graced with her paintings. Helen was very social and loved humour and laughter. She played cards, travelled, read, joined the Red Hat Society, walked 20 minutes almost daily indoors or out as long as she could, hunted for, found and saved many 4 leaf clovers, and until recently she danced with her walker in her living room to the tunes of the Saturday Night Dance Party! The love of her life, Alvin, passed away in 2001. In 2011, Helen moved from the farm to Fisher Court in Yorkton, living independently until July 28, 2023. Her family are very appreciative of the care received at the Yorkton Regional Health Center and from her family physician Dr. R. Ibrahim. Helen was blessed to spend the last twenty days of her life receiving palliative care at the Canora Gateway Lodge. The staff were very kind, caring and compassionate to Helen and her family. Helen was predeceased by her husband Alvin in 2001, her daughter Susan Mandziuk in 2019, her father Adam Sagan in 1965, mother Katherine in 1996, and brother Arthur in 1983.
To send flowers to the family or plant a tree in memory of Helen Norman, please visit Tribute Store
Funeral
1:00 pm
Wednesday, October 11, 2023
Westview United Church
355 Bradbrooke Dr.
Yorkton, Saskatchewan, Canada
Funeral
Interment
Orkney Cemetery
49.14571, -107.85336
Orkney District, Saskatchewan, Canada


Share Your Memory of
Helen