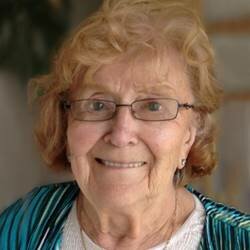 Obituary of Lillian Malinsky
MALINSKY, Lillian (née Uhryn)
August 31, 1923 - September 23, 2023

With sadness, the family of the late Lillian Malinsky announces her peaceful passing at age 100 on September 23, 2023, at Cottonwoods Care Home in Kelowna, BC. Her family was with her at her side. We're happy that Mom lived a long, happy, and healthy life, always surrounded by loving family and her many friends.
Mom was born and raised on the family farm, 5 miles NW of Rhein, SK and attended the nearby Feather Hill School. She married our Dad, Sozon Malinsky in 1944 and farmed together at their first homestead 1 mile NW of Veregin, SK. They sold their farm in 1948 and established a new General Store in the old BMO building in Rhein. After living a few years at the back of the store, and with sons Mark and Julian approaching school age, their Veregin farm home was relocated to Rhein, to the corner by the School and Sports Grounds. This is where daughter Zoria and son Wally came to be. In 1958, a cabin was built on Sunnyside Beach at Good Spirit Lake, where the family enjoyed many years of recreation time.
In 1967, Mom, Zoria, & Wally moved to Mom's sister Mary's home in Markham, Ont where she worked in a diner for 6 months. From there, Mom purchased and moved to the Arran Hotel in Saskatchewan where they lived and operated the Hotel with Julien Kowalyshen, her partner for the next 7yrs. In 1974, Mom and Wally moved to Yorkton, SK to live until she retired in 1992 and relocated to Kelowna to be closer to family. She lived at various places in Kelowna, including the Orchard Haven condos next to the Ukrainian Orthodox Church and most recently at Cottonwoods for the last 2yrs.
Her love for her family & friends was eternal. Mom enjoyed dancing until the age of 95, and never passed an opportunity to go to a dance, including weekly commutes with Dad to Yorkton to Square Dance during their younger years.
Mom had a creative talent for nurturing beautiful flowers and vegetable gardens, she wrote pysanky (traditional Ukrainian Easter eggs), baked and decorated many a wedding cake, and gave great haircuts to her family and friends. She frequently travelled to see her children over many years, including to: Whitehorse, Fort Nelson, Vancouver, Canmore, Kamloops, Kelowna, Vernon, Yuma, and Mexico. She made pyrohy, holubtsi, and borscht for us, and she helped with the grandchildren and with our gardens. In 1994, she travelled to Ukraine with a lady friend to meet a relative and visit the country where her parents were born.
Lillian was predeceased by her parents, Michael & Anna Uhryn, brothers: Jack, Mike, Ivan, and Miller; sisters: Katie Rohatynsky, Mary Malinsky, Lena Skaliwsky, Elsie Denischuk; and son-in-law, Don Nahnybida.
She is survived by her family: her son, Mark (Lynn) of Kelowna; granddaughter, Dee (Edward) Porter, and great-grandchildren, Otey and Mayes of Port Moody, BC; her grandson Dan (Kjersti) and great-grandchildren Mila and Finley of Kelowna; her son, Julian (Gail) of Ajijic, Jalisco, Mexico; her daughter Zoria Nahnybida of Vernon, BC; granddaughter Gina (Tim) Parker of Vernon, and great-grandson Mitch Dixon of Ft. Saint John, BC; her granddaughter Angie (Erin) Dodd, and great-grandchildren Tyler, Miranda, Jacob, Kassie, Brianna, and Dallas of Chilliwack, BC; her son Waldemar (Laurie) of Kamloops, BC; and granddaughter Jessica (Nick) Fields, and great-grandchildren Alexis & Natalie of Dawson Creek, BC. She is also survived by many nieces, nephews, and friends.
In lieu of flowers, donations are welcome in support of Sts. Peter and Paul Refugee Fund of Kelowna by e-transfer to: office@stspeterandpaulkelowna.com Password: Church
A Funeral Service was held on SATURDAY, SEPTEMBER 30, 2023, at 10:00 AM, at STS PETER AND PAUL UKRAINIAN ORTHODOX CHURCH, Kelowna, BC. Lunch will follow at the Orthodox hall next door. If you are unable to attend in person, please join the family online by Livestream at the time of the service (see below).
Lillian will be laid to rest at Yorkton Cemetery, Yorkton, SK, on Thursday, October 5, 2023, at 10 AM with Father Michael presiding.
To send flowers to the family or plant a tree in memory of Lillian Malinsky, please visit Tribute Store
Interment Service Only
10:00 am
Thursday, October 5, 2023
Yorkton City Cemetery
King Street
Yorkton, Saskatchewan, Canada


Share Your Memory of
Lillian