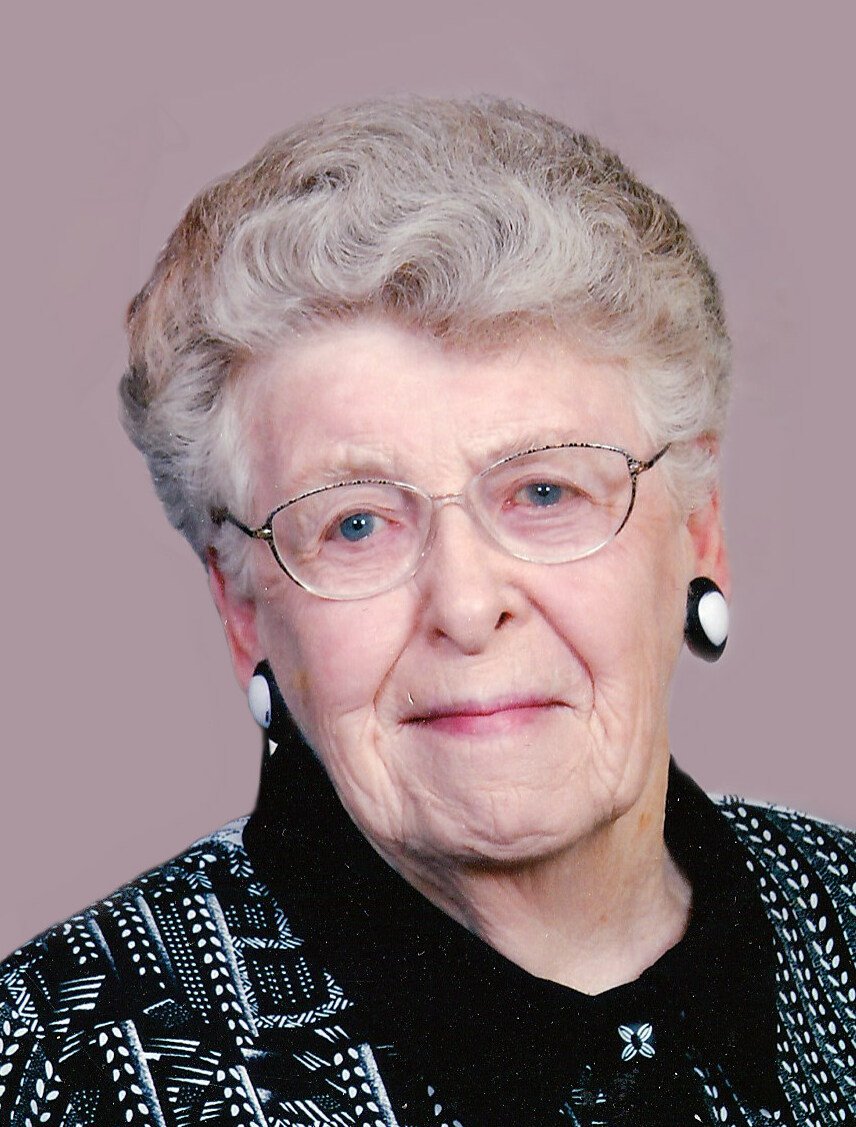 Obituary of Lorna Hopkins
CLICK HERE to view the livestream.
HOPKINS – Mrs. Lorna Hopkins (nee Couch) of Yorkton, Saskatchewan, beloved wife of the Late Bevyn Hopkins, passed away on October 2, 2023, just 9 days from her 97th birthday. She was the second child of Frank and Winnifred Couch (nee Jones) born in Swan Lake, Manitoba on October 11, 1926. The Couches were a family who enjoyed their time together. When Ellen, the first of the children, started to school, she would often teach Lorna whatever she had learned during the day. As a result, Lorna jumped ahead a grade when she began school herself. Ellen and Lorna were followed by Betty, Anne and finally George. They grew up on the farm.
Lorna taught school on permit at Harmer School (44/45), close to home in Swan Lake, when she was 18. She then took her teacher training at Normal School, United College in Winnipeg before going on to teach Grades One and Two in Wingham School (46/47 & 47/48) and then on to a few other places including Gilbert Plains, Saskatchewan 49/50, David Livington School in Brandon for a few years, and for a bit of a change, a term in Edmonton.
It was when she went to teach at Wingham School near to Elm Creek, Manitoba that she met Bevyn Hopkins who was one of the high school boys and son of Evelyn, also a teacher at Wingham School.
Lorna and Bevyn were married on July 19, 1958. They began their married life in Assiniboia, Saskatchewan where Bevyn was working, building a grain elevator. Twins, Keith and Kerry arrived on March 2, 1959. The family then moved to Yorkton, a location fairly central to the region of Saskatchewan and Manitoba where Bevyn would spend his grain elevator construction career travelling to jobs away from home. Another son, Bob, was born January 28, 1960, and a few years later in 1963, another son, Jon, who was born on her own birthday, October 11.
At holiday times, the family travelled often to visit extended family in Manitoba. I think the cousins all have good memories of the times we spent together when we were children and this was important to Lorna and all of the Couches. Fun was always important. We had the best Easter mornings. The Easter bunny always left some kind of an adventure but never the same mystery as the year before. And in those 'first day of school' pictures every year, we were snappy dressers. Unfortunately, by junior high school years in the 70s Mom had less input into what we wore. (There are pictures!)
Besides how smart and capable Mom was in all she undertook, she also had a few unexpected talents. Often after holiday dinners when the good eating was done, but before anyone wanted to move away from the table, she would read tea leaves. She said she had learned it from a book during the time she was teaching at Wingham, but even when she tried to point out the signs of future fortune she could see in the tea cup, no-one else in the family ever picked up the skill. And I just about forgot to mention her butter tarts. (Ask anyone!) And even in recent years when she was abandoned by her memory, if anyone was coming to visit, planning meals would be on her mind.
Lorna was an active and valuable member of the St Andrew's United Church community. She spent decades busy with the UCW (United Church Women) and other church activities. Mom knew how many loaves of bread were needed to make sandwiches for a funeral lunch depending only on if it was for people from in town or coming in from the country.
In late winter of 1973, after a period of gradually growing concern, Kerry was rushed to hospital in Saskatoon where, only a few weeks after she was admitted, she died of what was eventually diagnosed as hepatitis.
There is comfort today knowing that Mom is no longer carrying that heartbreak. The loss left a hole in the family that never completely healed. The years following Kerry's death were difficult. One bright spot for Mom and the family came when Mom became daytime caregiver for Annette. Mom made the offer when she learned that Ingrid, who was in Jon's class at school, might need someone to look after her young daughter. We were happy to have Annette become part of the family for the years she spent her daytimes with Mom in our home on 6th Avenue.
Mom continued to try to put the world back together, but we were all pretty lost for a long time. Mom's community was the church and she remained a steady worker there. Eventually the family grew. Keith married Debbie (Milligan) and they welcomed 3 children, Virginia (Randall), Franklin (Katelyn), and Victoria. Jon married Kirsty (Macrosson) and they had a son, Scott and a daughter, Emily. When Keith and Debbie separated, the children knew Grandma and Grandpa were always there when needed and Debbie and her family were also kept close in care.
At some point along with her other church duties and pleasures, Mom added singing in the choir to her church activities. St Andrew's remained a constant in her life and it was only when Dad, her dependable chauffeur, stopped driving that she no longer managed to attend regular services.
Keith was living at home, and it was his presence and care that allowed both Mom and Dad to stay living at home as long as they did. Quite a few years ago, we joked that Mom's obituary would read, "After a long battle with old age…" This was a prophecy that came true. Mom and Dad were the last of their generation in both families and they leave their children and grandchildren the legacy of exemplary lives, and standards to emulate. Once, upon learning of some small act of kindness or generosity that Mom had performed, one of her friends commented, "There will be another star in your crown in heaven, Lorna." We can take comfort in knowing that the time has come for Mom to receive that crown.
The Memorial Service was held on Saturday, October 14, 2023 from the
Yorkton Memorial Gardens Family Centre with Rev. Roland Legge of St. Andrew's United Church officiating. Words of remembrance was shared by
Lorna's son Bob. The pianist was Amanda Buhler. The interment followed in the Garden of St. Mark, Yorkton Memorial Gardens with Lorna' sons Keith and Bob serving as urn bearers. Memorial donations may be made to St. Andrew's United Church as gifts of remembrance. Condolences may be left for the family at www.baileysfuneralhome.com.
To send flowers to the family or plant a tree in memory of Lorna Hopkins, please visit Tribute Store
Memorial Service
3:00 pm
Saturday, October 14, 2023
Yorkton Memorial Gardens Family Centre
Highway #10 E.
Yorkton, Saskatchewan, Canada
306-783-4772
Interment
Yorkton Memorial Gardens
Highway #10 East
YORKTON, Saskatchewan, Canada


Share Your Memory of
Lorna