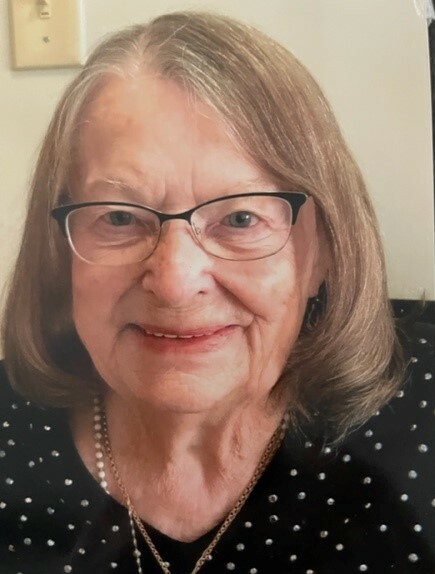 Obituary of Sophie Lekach
LEKACH - The family of Sophie Lekach is deeply saddened to announce her passing on October 28, 2023, just one month short of her 95th birthday, after a long, fulfilling, and well-lived life. Sophie died at her care home in Saskatoon, Saskatchewan of natural causes, after an extended period of deteriorating health.
Sophie was born on the family farm in the Beckingham District north of Ituna, Saskatchewan on November 29, 1928, one of three (3) children born to Walter and Anne Purcha (nee Hajewich). Her parents farmed in the Beckingham area where Sophie and her older brother, Joe and younger sister, Jean went to school until the family moved to Steveston, British Columbia (now part of Greater Vancouver) in 1942. Sophie continued her education in Steveston for another three years and then worked in the BC Packers Imperial Fish Cannery before coming out east to visit her brother Joe who had by that time started farming north of Kelliher, Saskatchewan.
It was at this time that Sophie met her future husband, Steve Lekach of the Ituna District. They married on February 23, 1950 in Winnipeg, where they both worked at the time. Shortly after they decided to relocate to the Kelliher District where they started mixed farming north of Kelliher. They lived on the farm for 37 years when they moved into Kelliher where they lived for another 29 years. In 2016, when their health started to decline and they needed to be closer to more comprehensive health care they moved into St. Volodymyr Villa in Saskatoon. Together, Steve and Sophie raised a family of three children, Rita, the oldest followed by twin boys, Glen and Garry. Sophie was a full-time homemaker and cherished her family above all else. Steve died on March 24, 2017, and at the time of his passing, Steve and Sophie had been married for 67 years.
Sophie's passion was her garden and her flowers. She had an amazing green thumb and her ability to grow amazing garden produce and manicured beautiful flower gardens have always given her much enjoyment and pride. She also was an exceptional cook. Her buns, perogies and cabbage rolls were legendary. She won many first place ribbons at the Kelliher Agricultural Fair over the years for her flowers, vegetables, cooking and baking.
Sophie was also community minded. She was a longtime volunteer with St Vladimir's Ukrainian Catholic Parish, where, among other things, she was instrumental in its upkeep and in raising funds for maintenance of the Church, working at fall suppers, and many other fund raisers. She also loved helping others and gave selflessly and compassionately of her time and talent to help and entertain local seniors and to assist them in all ways she was able. She often said that she would have enjoyed working as a nurse and always enjoyed attending to the sick and making them well.
Sophie also enjoyed seeing how people lived in other parts of the world and travelled extensively with Steve, including throughout Canada, the USA, particularly Hawaii, the Caribbean, Central and South America.
Sophie was a high energy person and dedicated countless hours to her children and grandchildren, all of whom she loved dearly. She taught them many things, but most important, she continually stressed the importance of education. Grandma always provided generous monetary rewards for high marks and achievements.
Sophie will be lovingly remembered by her family and friends for her compassion, friendliness, loyalty, great sense of humor, tireless work, strength of character, love of God, and unwavering dedication to her family.
Sophie is survived by her daughter Rita (Morris) Smysnuik, sons Glen (Berni Zopf) and Garry (Patty); 10 grandchildren: Kim (John) Morrall, Kristin (Craig Benner) Smysnuik, Steven Lekach, Samantha (Steven Grocholski) Lekach, Terra Lynn Lekach, Nicole Lekach, Ashley Lekach, Eleanor Lekach, Anna Lekach, and Paige Lekach; 4 great grandchildren: Emma Morrall, Joshua Morrall, Sophia Morrall and Noah Morrall, and numerous nieces and nephews.
Sophie was predeceased by her parents Walter and Anna Purcha, brother, Joe Purcha, sister Jean, brother-in-law, Al Wilson and great grandson Cairo Benner.
The Parastas/Panakhdya Service was held on Friday, November 3, 2023 at St. Margaret Mary Roman Catholic Church - (under the auspices of St. Vladimir's Ukrainian Catholic Parish, Kelliher Saskatchewan) with Reverend Jeffrey Stephaniuk as the Celebrant. The responses were led by Ladmer Moskal. The cross bearer was Ashley Lekach and the epistle reader was Anna Lekach. A eulogy and reflections of Sophie's life were shared by her daughter Rita Smysnuik. All Sophie's Children, Grandchildren and Great Grandchildren were recognized as Honorary Casket Bearers. The interment followed in the family plot at St. Vladimir's Ukrainian Catholic Parish Cemetery with Steven Lekach, Joshua Morrall, Eleanor Lekach, Paige Lekach, Emma Morrall, Samantha Lekach, Noah Morrall and Craig Benner serving as the casket bearers. Memorial Donations can be made in memory of Sophie to the Alzheimer Society of Saskatchewan. Condolences to the family can be posted at baileysfuneralhome.com
ETERNAL MEMORY/ВІЧНАЯ ПАМ'ЯТЬ
To send flowers to the family or plant a tree in memory of Sophie Lekach, please visit Tribute Store
Funeral
1:00 pm
Friday, November 3, 2023
St. Margaret Mary Church
King St. & 3rd Ave
Kelliher, Saskatchewan, Canada
Under the auspices of St. Vladimir's Uk. Cath. Church
Interment
St. Vladimir Parish Cemetery
NW 27-26-13 W2
R.M. of Kellross # 247, Saskatchewan, Canada


Share Your Memory of
Sophie