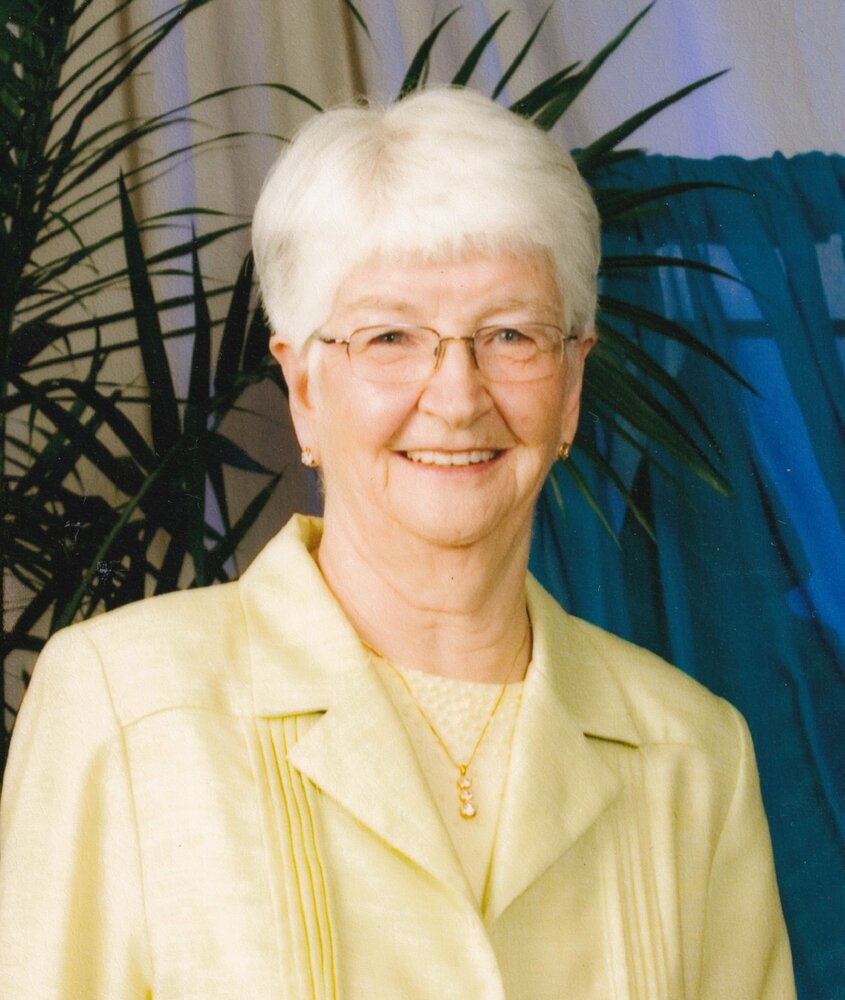 Obituary of Gerry Peppler
The family of Gerry Peppler of Yorkton, beloved widow of Ernie Peppler sadly announce her passing on Saturday, February 25, 2023. Gerry was 89 years of age.
In accordance with Gerry's wishes, there will not be a funeral service.
Memorial donations may be made to the Health Foundation or Yorkton Victim Services as gifts of remembrance.
Geraldine (Gerry) Mae Peppler
Gerry passed away at 89 years of age on February 25, 2023 in the comfort of her family's home in White City, SK.
Gerry was born August 30, 1933 at the Yorkton Union Hospital to Joseph & Mary (MacKenzie) Neil. Her family moved to Yorkton from Kessoch in 1940. She received her education in Yorkton & graduated from Yorkton Collegiate Institute in 1952. A business course followed & then she joined the workforce. She had a number of places of employment until January 1960 when she went to work for Yorkton Television. Over the years in TV she became well known for her work as a host & interviewer on Shamrock Side of the Morning. She became the Program Director in 1971 & held that office until she retired in 1992. Gerry was always proud of the work she did & the connections that she made. Many of the people Gerry interviewed became fast friends.
In 1954 she was united in marriage to Ernie Peppler. They ran a successful farming operation in the Rhein area until Ernie passed away in 2004. They have one son Trent who was born in 1966. The family would live at the farm near Rhein from spring to fall and in Yorkton in the winter. Gerry & Ernie were involved in both communities. Gerry always kept a huge garden & they took pride in the yard at the farm. They enjoyed socializing with friends. At harvest time Gerry became the farm hand whether it was moving equipment or providing meals to the crew. Although they moved to Yorkton in the winter they were at the farm every weekend so Trent & Ernie could snowmobile. They enjoyed curling together & over the years were fortunate to travel to several world curling championships around the world.
After retiring Gerry devoted herself to volunteering. She received the YWCA Woman of Distinction award for her contribution to a rural community. In 2000 she received the Saskatchewan Volunteer medal. And most recently in February 2023 she was honored to receive the Queen Elizabeth II Platinum Jubilee medal for her significant contribution to her community. Over the years she served on many local & provincial boards. She served for 25 years on the Yorkton Housing Authority, 15 years on the Credit Union Board, Sherwin House & the Saskatchewan Crime Stoppers. She was an honorary life member of the Saskatchewan Crime Stoppers & the Yorkton Chamber of Commerce. She devoted over 25 years as a volunteer with the Sunrise Health District, was a board member of the Health Foundation of East Central Saskatchewan & Parkland Victims Services as well as a life member of Beta Sigma Phi.
Trent & Jacqui's home in White City became Gerry's second home. She lived with their family for 6 months to be their grandma childcare provider when Drew was 6 months old so Jacqui could return to work early. She spent most holidays and every summer for the past 9 years with the family. Gerry loved her family and would always clear her busy volunteer schedule when they needed her help. Gerry was an attentive Grandma and could be found sitting inside the box forts Drew had made playing with him or sitting on the floor playing with his cars. She offered a confidential ear to Emily with their late night conversations all while giving her a back scratch. She always wanted to know how all the kids were doing and took a lot of pride in her family. Gerry was a part of our family's daily life. When we decided we were opening a business we would bounce business ideas off of her, she was a willing taste tester and our cheerleader. She was our loyal cash counter when the ice cream truck would arrive back home from being at an event. Anything she could do to help make her family's lives easier she would do.
Gerry's calendar was always close at hand to keep all of the meetings she attended and volunteering hours straight. She loved to stay involved and to give back to the community that she loved. She seemed busier than most people that worked full time which we believe kept her active and young. She was always very proud of the work that was accomplished on the boards she participated in and with the connections she made whether when she was working in television or in her volunteer work. Many of these connections became lifelong for her & she cherished the visits & conversations that followed.
Gerry was a dedicated friend and was always connecting with her friends for lunch or coffee, gathering with her Beta group or the neighbourhood coffee group. She always kept her family informed of what was happening with the extended family. She was the conduit of information to keep us all in the loop. She was a mover & a shaker until covid reared its ugly head which forced Gerry to stay at home and stop many of her volunteer activities. This is when Gerry started to show her age & she started slowing down. Gerry had a brief cancer diagnosis & spent her last 2 weeks in the care of her family in White City. She was surrounded by her family as she peacefully passed. Gerry was a beautiful person inside & out. She will be deeply missed by all that knew her.
Gerry is survived by her son Trent, his wife Jacqui Kennett-Peppler, grandchildren Emily & Drew and step grandchildren Kira, Jon & Quinn Kennett of White City, SK; her brother Don (Marilyn) Neil of Calgary; brother in law Gerry (Bev) Peppler of Barrie, Ont; Sister in law Emily Peppler of Rhein, SK as well as many nieces, nephews, cousins and many, many friends.
At Gerry's request there will be no funeral. She was cremated & her ashes will be put to rest at a later date. If friends wish to make a memorial donation, Gerry requested that the Health Foundation or Parkland Victims Services be the recipients. It has been heartwarming for the family to see all the comments on social media on how Gerry has impacted their lives & we appreciate people's sharing of those stories. We would encourage everyone to take a page from Gerry's life story & see how you can make a positive impact in your community. We would also like to thank Gerry's friends for helping support her in the last few years and specifically Jean Bryski for the ongoing support especially over the last the month as we navigated Gerry's last health crisis.
Funeral arrangements have been entrusted to Bailey's Funeral & Cremation Care.


Share Your Memory of
Gerry