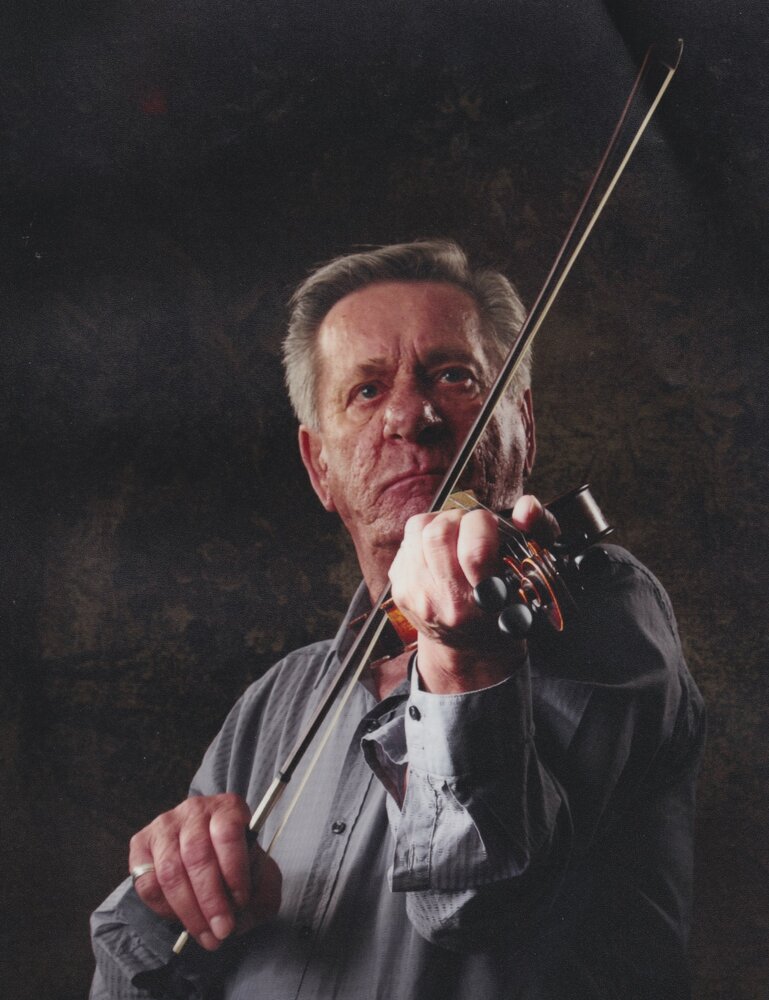 Obituary of Peter Nick Kobylka
Peter Nick Kobylka (85) of Yorkton, Saskatchewan, passed away on April 30, 2023 at the Canora Gateway Lodge.
Peter was born to Jeannie (Slowski) and Nick Kobylka on July 21, 1937 in the Gorlitz district. He was the middle child of 5: Verna, Dan, Peter, Adel and Allen.
He is pre-deceased by his Mother Jeannie, Father Nick, brother Dan; brothers-in-law Joe (Verna) Todoyschuk and Eugene (Adel) Yakimoski; sister-in-law Evelyn (Dan) Kobylka and daughter-in-law Carlene (Jerry) Kobylka.
He is survived by wife Irene; son Jerry (Carlene), Devin (Brittney) Isla, Emmerson and Azelyn; son Brian; son Layton (Lisa), Aiden and Karys; daughter Leanne (Darrell), Aurissa and Jenna.
Peter attended Annak school that was located on their farm land then attended the Canora Composite school until grade 10. He worked on the family farm and soon discovered his love and passion for music. He got his first fiddle when he was about 7 or 8 years old from a good neighbour. He would watch Tony Procyshyn play then go home and practice in the mirror. He became an exceptional musician, self-taught violin player and only played by ear.
While playing at a wedding he first met Irene. They started dating soon after that. Peter didn't have a vehicle, so he would often borrow cars to pick up Irene to go on dates. When it was time, Peter and his brother Dan bought and raised 400 turkeys to sell. They each took that money to buy engagement rings for Irene and Evelyn. Peter and Irene married May 19, 1962 where they had two receptions, one at Whitesand District and one in Gorlitz. In 1964 they had their first son Fitzgerald (Jerry) Nicholas Kobylka, then Brian Peter Fredrick in 1965. Then the twins Layton Sam and Leanne May in 1971.
Peter had many jobs through his years. He left home to go to Toronto and worked for a construction outfit. Then worked for Rowntree (later to be known as Nestle) selling chocolate bars direct to retailers and had plenty of sample smarties and Maple Buds (who can remember those). While travelling in central Saskatchewan for Rowntree he had a celebrity encounter with recently retired Toronto Maple Leaf goalie Johnny Bower. He got a job with Howie Alberts at Howie's Music & Jewelry. That transitions into McLaren's Music where he worked for 22 years. He ended his career at St. Mary's Cultural Centre and he retired in 2006. He also kept busy painting houses, washing windows, playing in bands for weddings, anniversaries and dances.
Family and friends looked forward to the yearly phone call from Peter who would play Happy Birthday on the violin. He had a dedicated calendar with all the birthdays to keep him on track. He was asked numerous times to play Amazing Grace at funerals or in the Church. Lorne and Peter played quite frequently at the door for weddings or at nursing homes. All the residents truly enjoyed listening and reminiscing of older times.
He was one of the original Country Lads members with Ernie Denysek, George Stanicki and Norm Werner. There were so many other band members through the years. His brother Allen Kobylka, Lorne Procyshen, Allen Zatwarniski, Benny Lozinski, Russell Dorosh, Merv Gabora, Orville Drobot, Glen Haskewich, Bob German, Ron Rodoski, Bud Taylor, George Flunder, Les Pavlick, Glen Leson, Steve Ryzak, Al Benarchuk, John Drodz, just to name a few. He made lifelong friendships and treasured them all.
He had many enjoyments in his life; fishing, helping others, singing in church, but family was number one. His grandchildren meant the world to him. He was blessed with 5; Devin, Aurissa, Jenna, Aiden and Karys and 3 great grandchildren, Isla, Emmerson and Azelyn.
The last couple of years, he enjoyed sitting on the deck, being in the sun, watching traffic and talking with neighbors. He would rush to grab his violin when the daycare children would be outside and play "The Wheels on the Bus" for them. Playing music for people brought him so much joy.
He was a friend to many. A caring uncle and nephew, a thoughtful brother, a helpful son and brother-in-law, a devoted Gido, an amazing father and loving husband.
To send flowers to the family or plant a tree in memory of Peter Kobylka, please visit Tribute Store
Funeral Liturgy
10:00 am - 11:30 am
Monday, May 8, 2023
St. Mary's Ukrainian Catholic Church
155 Catherine St
Yorkton, Saskatchewan, Canada
Interment
11:30 am - 12:00 pm
Monday, May 8, 2023
Yorkton Memorial Gardens
Highway #10 East
YORKTON, Saskatchewan, Canada


Share Your Memory of
Peter