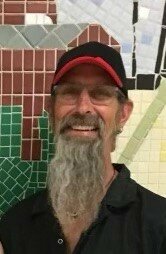 Obituary of Darcy Smuk
The family of Darcy Dean Smuk of Canora, sadly announces his passing on Wednesday, June 28, 2023. Darcy was 55 years of age.
Celebration of Life will take place on Saturday, July 8 at 3:00p.m. from the Administration Office & Recreation Hall inside Good Spirit Provincial Park.
Arrangements have been entrusted to Bailey's Funeral Home, Yorkton.
Darcy Smuk was born in Yorkton at 7:00 am on Nov. 24, 1967, to Joe and Mary Smuk of the Jedburgh area. Darcy was the youngest of 9 children, which included 3 sets of twins. Darcy was adored by his older siblings. Darcy attended the Willowbrook Elementary School, first to be picked up and last to be dropped off as Joe drove the bus. As a youngster, if Darcy wasn't learning the value of hard work at the farm or with his brothers, he was playing in the PFRA pasture and exploring the bush across the road. Darcy took his younger nephew Tad as a brother so Tad holds many memories from when they were young to when they were wild. Darcy's parents made the move from the farm to Yorkton in the early 80's where Darcy attended school until he grew facial hair and received the following advice in his report card - "Darcy needs to work harder". So, Darcy took that advice, left school to begin work and he has worked harder ever since. He was passionate about his work, always striving to be better, and he was a perfectionist to start with.
Darcy's younger days (before settling down) included good times, good people, and motorcycles. Darcy worked hard and played hard, and many of his life-long friendships were built during this time. His Brothers and friends would have many tales to tell of Darcy. Darcy settled down a bit when he began working for the city, where he stayed for approximately 10 years, until he became a father in 2003. Darcy took great pride in his work at the city and developed many new friendships there. In August of 1996, Darcy was briefly introduced to Jackie at Minnedosa. A couple weeks later, they fatefully ran into each other in Yorkton, and their 27-year journey in this world began. Darcy trimmed his goatee and wore long sleeves to meet the family. Jackie moved in with Darcy by Christmas that same year. Darcy and Jackie were engaged in 1999, bought a house in Melville in 2000 and were married on October 12, 2002. Jazlynn was born nine months later in July 2003. Darcy decided he needed to work elsewhere to earn more to support his growing family, thus began the sacrifice of working away. Waylan came along as planned two years later in 2005. After a separation, they moved and bought a house in Yorkton in 2009, and then sold the Melville home. After finally separating in 2011, Darcy bought a cabin at Good Spirit where he has resided since. Darcy and Jackie spent many occasions together over the years with their children. From the beginning of their relationship, Darcy became a permanent member of the Johnson/Brass family. Many of Jackie's family members visited with Darcy at the cabin in his health, and at the hospital in his final days.
Darcy's first love was for his children, strong and deep. He wanted to teach them the value of hard work, and he wanted them to have a good start in life. He was proud of his children – knowing Jazlynn - his sweetheart and diamond, was succeeding in University and that Waylan - his spitting image, was about to graduate. Darcy was in the Regina hospital and unable to attend Waylan's graduation ceremony at the end of May. Darcy was home earlier this spring and able to attend Waylan's basketball games where he witnessed Waylan's very first slam dunk in a game, which could arguably be just as important as grad!
Darcy was a Journeyperson Concrete Finisher by trade, however he could build, fix, or destroy anything. Quality and workmanship were important. He gained experience in carpentry, finishing carpentry, dry-walling, roofing, siding, framing, he worked the rigs, the pipeline, the railroad, farming – you name it, he did it. He admits he didn't know much about electrical and plumbing, but he knew enough people who do. He logged tens of thousands of hours working concrete. He did curb, gutter, sidewalks, paving stone, driveways, patios, garage pads, shop pads, even a kitchen counter. And then came the big stuff…. he built bridges – big bridges and little bridges, overpasses, guardrails, water, and sewage treatment plants, and he was proud to have built a couple of the animal bridges near Banff and Lake Louise. He loved the wildlife, no pun intended. Darcy's work stretches from Yorkton to Alberta into Northern BC. He took many pictures of the sights he would see and the things he would build. He was a concrete warrior and he took that journey with many who became close friends – those he called family. He had a strong work ethic, only missing work for family emergencies, like child birth or his wedding, and also hunting, depending on the project or location he was. He was an asset to every crew and every project. It's no wonder his health and ultimately his lungs began to fail. He worked right up till he couldn't any longer, and that was devastating.
Darcy's other love was the outdoors. He enjoyed walking and exploring, finding sheds, scouting for hunting spots, as he was an avid hunter. His best hunting memories were with his close friends; or teaching Jackie everything he knew about the whitetail species and how to navigate the PFRA. Jackie and Darcy hunted together over the years and it is Darcy's legacy that he wants his children to maintain. A piece of Darcy will always be at that creek in the PFRA.
Darcy was strong, stubborn, and straight-forward, sometimes hard to please, yet still somewhat charming - a proud Ukranian. He was rough around the edges with a massive golden heart. He was a die-hard Flame fan, and of course a Rider Fan. Somehow, calls and favors were made to have the cable hooked up a few days early so Darcy could watch one last Rider game – which they won in overtime. Darcy enjoyed relaxing after a hard days work - if he got the chance, and ordering a late-night pizza. He enjoyed camping and the relaxation that allowed. He had many friendships and spent a lot of time with his friends over the years. Each friendship special in itself.
Darcy was a special person to everyone who took the risk to get to know him. He was a father, a friend, an uncle, a brother, a son, a coworker, a leader, a teacher, a student, a partner; a warrior, a protector, a thinker, a problem-solver, and a provider. He will be fondly remembered. His knowledge and advice will be sadly missed.
Thank you to the nurses and caregivers who provided care and comfort to Darcy during the last five weeks in hospital and to the palliative and home-care team that assisted throughout.
Darcy fought a good battle to the end and died peacefully late on June 28, 2023, surrounded by Jazlynn, Ken, Tad and Denise, Rebecca, Eleanor, and Jackie.
Darcy leaves his memory and legacy to be cherished by his children: Jazlynn (19) and Waylan Smuk (17) and their mother Jackie; Brother/Nephew: Tad (Denise) Keltie and their children; Siblings: Darlene (Ted) Chepil; Marlene McFadyen; Muriel (Victor) Dmyterko; Ken Smuk; Terry Smuk; Garry Smuk; Theresa (Wes) Heuchert; Mother-in-law Eleanor Brass-Brazeau; numerous nephews and nieces and extended family; his younger daughter Willow; and many friends, in-laws, and outlaws.
Darcy was predeceased by his Parents: Joe Smuk (1997) and Mary Smuk (2001); Brother: Mervin Smuk (2016); Brothers in-law: Ivar Brass (2007); Darcy Johnson (2016); Don McFadyen (2019); Father-in-law Glen Larry Johnson (2017).
To send flowers to the family or plant a tree in memory of Darcy Smuk, please visit Tribute Store
Funeral
3:00 pm
Saturday, July 8, 2023
Good Spirit Hall
51.506330, -102.667184
Good Spirit Lake, Saskatchewan, Canada
Celebration of Life


Share Your Memory of
Darcy