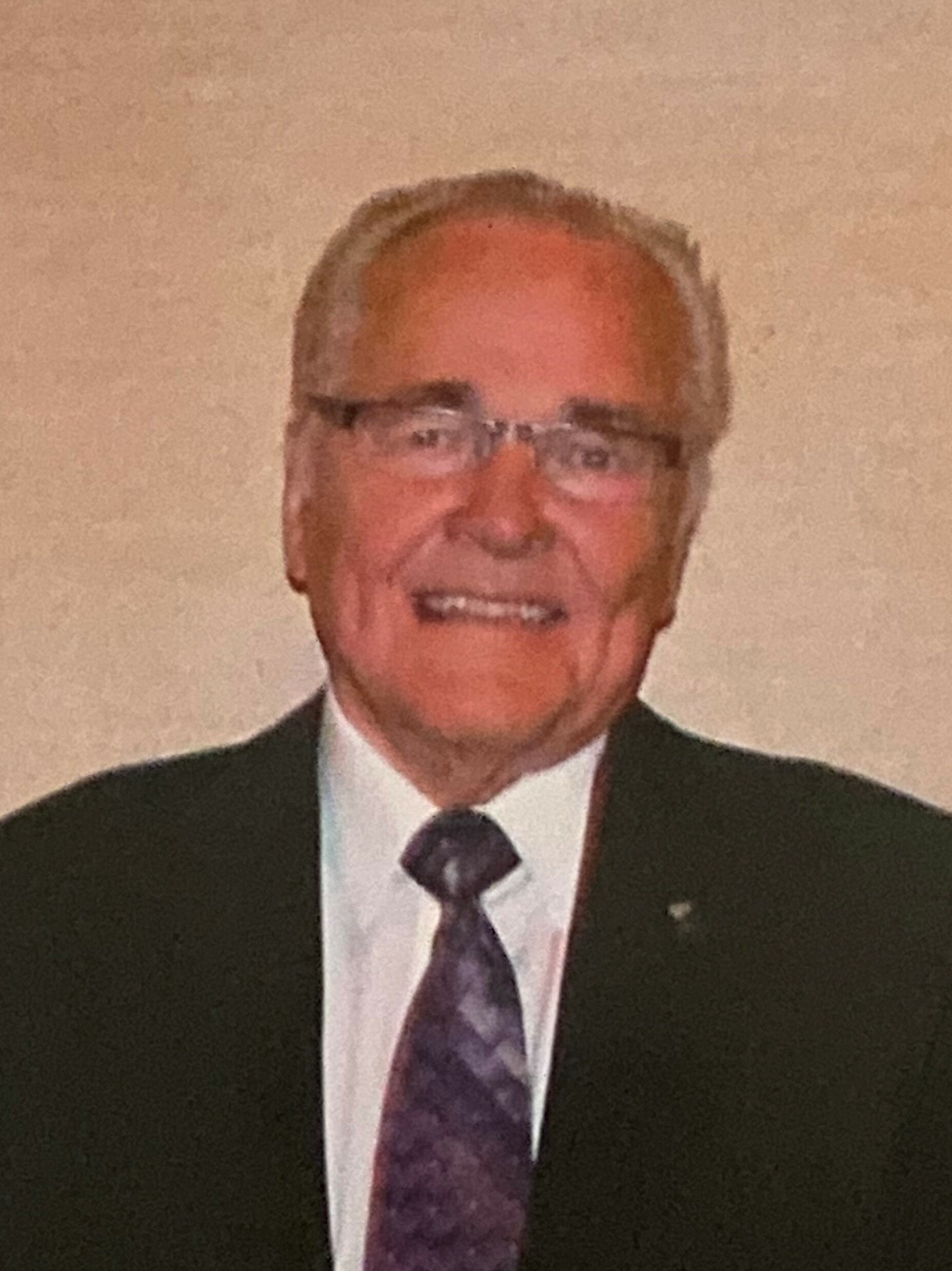 Obituary of Jim Chorney
The family of James Chorney of Regina and formerly of Ituna, beloved husband of Sylvia Chorney sadly announce his passing on July 3, 2023. James was 89 years of age.
The Funeral Service will be held on Monday, July 10 at 11:00a.m. from Holy Ghost Orthodox Church, Ituna with Father Michael Faryna presiding.
The interment will follow in the Holy Ghost Parish Cemetery.
In lieu of flowers, the family asks that you consider making a donation to the Ukrainian Canadian Congress Overseas Ukrainian relief efforts, a cause close to James' heart as a proud Canadian of Ukrainian descent.
James was born on the family farm near Ituna, Saskatchewan the sixth child of Onufrey and Sophie (nee Skochylas) Chorney. He loved the farm and their animals, and wanted to farm. He attended the rural Hard Rock School for Grades 1-9, then on to Ituna for Grades 10-11. As education was important to his parents, he continued to Grade 12 at Yorkton Collegiate. Although his love was the farm, he moved on to the Teachers College in Moose Jaw to obtain his teaching certificate and start a career.
He began his teaching career in the Tullymet country school and after two years, continued his education to the University of Saskatchewan where he earned his Standard Teaching Certificate. As Tullymet was amalgamated into Ituna, he returned to teach in his hometown. After two years he accepted a new position in Wishart. This was a life changing move for James, as he also met his future wife Sylvia in Wishart. He accepted a transfer to the larger Foam Lake Composite High School for five years. In 1967 with a growing family, James moved back home to Ituna. This move brought James closer to his mother, old friends, and to continue to work the farm.
With a growing family and new opportunities to be involved, James taught his high school Math and English classes with a passion for helping others learn and grow. Over the years, he gave his time to coach ball teams, drama clubs, public speaking and other extra curricular activities. As his career grew, so did his desire to lead others. In 1974 the Melville district Superintendent Mr. Ernie Franks convinced James to take on the role of principal based on his leadership skills, and appointed him as the Principal. James proved his worth, dedication, and leadership through a 17 year term that ended in his retirement in 1991. Some of James' proudest achievements was to be instrumental in bringing Ukrainian Language classes to the Grade 7-12 students, bringing one combined Ecuminical Church service for Graduating Students, and keeping the traditional Ukrainian Christmas holidays as celebrated days off.
In the community, James was involved in many youth sports programs. He was manager, organizer, bus driver, and skate tie-er for many hockey teams. In fact the only time James would leave school early was to start the bus or to act as timekeeper for the football team! At various times he served as President of the local Sports Association and the Arena Association. He was honoured to receive the Sportsman of the Year award.
Beyond sports, James was elected Director of the local Credit Union board. He ran and was elected Town Councillor for Ituna. He was the Town representative to the regional Valley of the Calling Lakes development authority and served as Parade Marshall for the Saskatchewan Centennial local celebrations.James was a long serving member of the local Lions club and Recreation Board.
Spiritually, James was active in his local church activities and boards. He was active in the extension of UOCC Holy Ghost church in Ituna, and served as the Central Diocese delegate / treasurer for 9 years. He also served as the President of the Ituna/Wadena UOCC parish district for 9 years, and the President of the local committee.
After 42 years in Ituna, James and Sylvia began a new chapter in Regina which opened new opportunities to get involved. He joined the UOCC executive board for 4 years, joined TYC and Prosvita, and eventually becoming an executive member for both organizations.
As a life long advocate for education, James was proud of his sons graduating with Engineering Degrees. James also supported his wife Sylvia's continuing education in achieving her Urban Administrators certificate from the University of Regina, enabling her to become the Town's first woman Administrator.
In March of 2023, James received the Ukrainian Canadian Congress Community Recognition Award for Leadership and Volunteerism for his dedication in many community and spiritual leadership and support roles.
James was predeceased by his father Onufrey, mother Sophie, sisters Helen, Shirley, Margaret/Ann(infancy), and Lucy. He is survived and truly missed by his loving wife Sylvia (Zylyk), son Curtis (Cole, Jesyka, Eryka, Cate) of Edmonton, son Travis and wife Tina (Jake, Mitchell) of Edmonton, son Terris (Austin, Alyxandra) and wife Chana Martineau (Tori, Hunter) of Edmonton.
He parts with a close family and many friends - who will all miss his good will and vibrant spirit.
James spent his last months in the loving care of many dedicated and amazing health care professionals at both the Regina General Hospital and the Wascana Rehabilitation facility.
Slava Ukraina
A proud Canadian
To send flowers to the family or plant a tree in memory of Jim Chorney, please visit Tribute Store
Funeral
11:00 am
Monday, July 10, 2023
Holy Ghost Orthodox Church
Box 255
Ituna, Saskatchewan, Canada
Funeral Service
Interment
Holy Ghost Parish Cemetery - Ituna
51.16249, -103.49391
Ituna, Saskatchewan, Canada
Burial